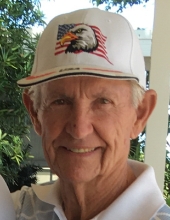 Obituary for Fred F. Hinchliffe
Fred F. Hinchliffe, age 82, beloved husband of Louise W. (Burt) Hinchliffe died Friday March 10 at their home with his family by his side after a battle with Alzheimer's disease.
He was born in San Diego, CA, July 7, 1940 a son of the late Wilfred and Marilyn Hinchliffe and live in Billerica before moving to Ellenton, FL for 14 years before recently returning to Billerica.
Fred was a Sheet Metal Mechanic for Boston Metal Door in Arlington and more recently Dynafab and Baystate Door.
He was an avid golfer and also enjoyed bowling and playing darts with his co-workers but most important to Fred was spending time with his family especially his grandchildren and great-grandchildren.
Besides his wife of 26 years he is survived by one daughter, Lynda Bennett and her husband Robert of Billerica; four sons, William Hinchliffe and his wife Andrea of Billerica, Scott Hinchliffe and his wife Tania of Billerica, Stephen Hinchliffe and his wife Abby of Indiana and Greg Hinchliffe and his wife Vanessa of Plymouth; four sisters, Patty Williams of TX, Lynn Greaver of SC, Barbara St. George of West Bridgewater and Darlene Stetson of SC; two brothers Pat Hinchliffe of TX and Robert Hinchliffe of Easton as well as 14 grandchildren Robert Bennett and his wife Corinne, Justin Bennet and his wife Bethany, Scott Hinchliffe II and his wife Paula, Joseph Hinchliffe and his wife Abby, Craig Bennett and his wife Alex, Brett Hinchliffe and his wife Samantha, Sean Hinchcliffe, Sydney Hinchliffe, Jesse Hinchliffe, Autumn, Arrow, Mark and Christine; 17 great-grandchildren, Aaliyah, Madison, Avery, Kyle, Elijah, Lucy, Adelae, Josiah, Remy, Indy, Oliver, Quinn, Josie, Joey, Hazel, Fiona and Holly. He was the grandfather of the late William Joseph Hinchcliffe Hinchliffe and brother of the late Richard and Gary Hinchliffe.
Visiting hours will be held at the Sweeney Memorial Funeral Home, 66 Concord Rd., Billerica Friday March 17, from 4 – 7 p.m. with a prayer service to be held at 6:30 p.m. Relatives and friends respectfully invited. All other services will be held privately and at the convenience of his family. In lieu of flowers, memorial contributions may be made to the Alzheimer's Assn. www.alz.org or to Beth Israel Health at Home www.bilhathome.org
Read More