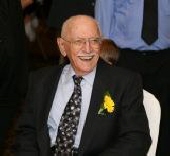 Obituary for William V. Profenna Sr.
BILLERICA William V. Profenna Sr., age 92, husband of the late Lucy J. (Cirino) Profenna and Rose (Evangelista) Profenna died Saturday at Melrose Wakefield Hospital.

He was born in Everett, MA January 5, 1918 a son of the late Vincent and Emily (Cersosimo) Profenna and lived in Everett prior to moving to Billerica 33 years ago.

Mr. Profenna was a Shear Operator for the former Lee Products in Everett for many years and was an active member of the Billerica Senior Center where he was a member of the Cribbage Club.

He was an avid baseball fan, enjoyed playing the piano and is remembered for his love of the song Sweet Georgia Brown.

Mr. Profenna is survived by one son, William V. Profenna Jr. and his wife Patricia of Everett; two daughters, Patricia Profenna and her husband John Bernazani of Chelmsford and Rosemary Kinser and her husband Kenneth of Billerica; one brother, Vincent Profenna and his wife Alice of Millville; three sisters, Josephine Cirino of Ludlow, Dorothy DeMartino and Emily Fritz both of Malden. He is also survived by five grandchildren, nine great-grandchildren and his dear friend Betty ODay.

PROFENNA Of Billerica, formerly of Everett, January 1, William V. Profenna Sr. A Funeral Service will he held Tuesday at the SWEENEY MEMORIAL FUNERAL HOME, 66 Concord Rd., Billerica at 10 a.m. Relatives and friends respectfully invited. Visiting hours will be held Monday from 4 7 p.m. In lieu of flowers memorial contributions may be made to the Hallmark Health Hospice, 178 Savin St., Malden, MA 02148. Burial in Holy Cross Cemetery, Malden.