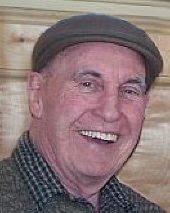 Obituary for Wilfred J. Laurendeau Jr.
Wilfred "Bill" J. Laurendeau Jr. - Age 85, husband of the late Phyllis M. (Hunter) Laurendeau died Wednesday at his son Bill's home, where he had been living during his illness.
He was born in Somerville, January 6, 1926, the son of the late Wilfred J. Laurendeau Sr. and Annie G. (Rogers) Laurendeau. Mr. Laurendeau attended Everett High School and during his junior year entered the Marines at the age of 17. He served in the Marines from 1943 until 1945 being discharged in Miramar, CA as a Sergeant. While in the military, his parents moved to the Nutting Lake section of Billerica, and he graduated from the Howe High School on June 18, 1947. He married his wife Phyllis in April of 1950 and celebrated their 61st wedding anniversary last year.
Mr. Laurendeau was a Billerica Fireman from 1953 until 1956 and then became a Billerica Police Officer. He retired in 1973. Upon the sudden death of his uncle Dan Sweeney, Mr. Laurendeau became a funeral director in 1959 and moved the family business from Everett to Billerica and along with his wife Phyllis opened the Sweeney Memorial Funeral Home in 1960. Mr. Laurendeau was the owner of the former Martin Trailer Service in Billerica and was a founding member of the Billerica Municipal Employees Credit Union, where he served as Chairman of the Board of Directors from its inception in 1971 until his retirement in 2000. He was the Chairman of the former Billerica Avenue of Flags, a member of the American Legion Post, the VFW Eggo Post, a founding member of the Billerica Knights of Columbus and a life and charter member of the Billerica Lodge of Elks.
Upon his retirement, Mr. Laurendeau and his wife moved to their home in Moultonborough, NH where they enjoyed many years at the lake with their family and friends. They spent their winters at their home in Clearwater, FL. One of his greatest joys of recent years was attending his granddaughter's basketball and softball games and seeing her surf. The family would like to thank all of the care givers and friends that have taken such exceptional care of both Phyllis and Bill over the recent years.
Mr. Laurendeau is survived by his sons, William J. Laurendeau and Dean M. Laurendeau and his wife Maryann all of Billerica; his granddaughter, Jana Harring Laurendeau; his sister, Doris Hanson of Methuen; his nephew and nieces, Dan and Carol Shea of Billerica, Debbie and Robert Gatta of Salem, NH and Sandra and Robert Berry of Dracut.
LAURENDEAU - Of Billerica, Feb. 23, Wilfred J. "Bill" Laurendeau Jr. beloved husband of the late Phyllis M. (Hunter) Laurendeau. Visiting hours will be held Sunday at the SWEENEY MEMORIAL FUNERAL HOME, 66 Concord Rd., Billerica from 2 - 5 p.m. A Funeral Mass will be held Monday at St. Theresa Church, Billerica at 9 a.m. Relatives and friends respectfully invited. Burial in Fox Hill Cemetery, Billerica. Memorial contributions may be made to the Alzheimer's Association, 311 Arsenal St., Watertown, MA 02472.