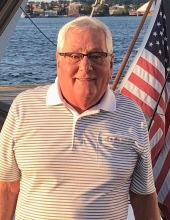 Obituary for Warren J. Costedio
Warren J. Costedio, Age 84, husband of the late JoAnn B. (McNulty) Costedio died Friday, January 1st at the Palm Skilled Nursing Care Center in Chelmsford with his family at his side.
He was born in Marlborough, April 7, 1936, son of the late Joseph and Rose (Furtado) Costedio and lived in Marlboro and Hudson before marrying JoAnn, his beloved wife of over 58 years, and moving to Billerica in 1962. He proudly served in the U.S. Navy.
Warren was a graduate of Boston College where he earned his degree while working and raising a young family. He had a long and successful career and was employed by Raytheon for over 30 years, having retired as the Director of Operations of Marine Products. In his retirement, he worked at the Courtyard by Marriott in Billerica at their front desk for 15 years, which helped to support his thriving golf habit. He was an active member of the Country Club of Billerica and was a member of the Billerica Knights of Columbus, where he served a term as Grand Knight.
Warren, a.k.a. Tank was always considered a true gentleman and a loyal friend to all. His easygoing demeanor and self-deprecating sense of humor made him a welcome guest at any gathering. He loved competing in numerous golf leagues and looked forward to his annual golf trips to North Conway and Myrtle Beach with the guys. He was a die-hard Boston sports fan and honorary Irishman every St.Patty's Day. He could often be seen out with family, raising a glass and enjoying a meal at any one of his favorite local restaurants.
As the patriarch of his family, Warren was a great role model for his children and grandchildren, as well as friends and neighbors. He was the head chef at every holiday meal, the cheering fan at the sporting events, recitals and school events of his children and then eventually for his grandchildren, too. He could always be counted on for his generous and unconditional love and support. He will be fondly remembered and sadly missed by all who knew him.
He is survived by his sons, Brian Costedio of Providence, RI and Brad Costedio and his wife Kelly of Billerica; his daughters, Beth Cain and her husband Chad of Wellington, FL, Bonnie Karoub and her companion Stefan Sargeant of Reading and Brooke Vincenti and her husband Brian of Waterford, CT; his sister, Marlane Brosseau of Fall River; sister-in-law Judith Pangraze, her son Chuck Pangraze, his wife Lee and their daughter Olivia, all of Billerica, and his beloved grandchildren, Veronica, Alec, Max, Camryn, Jenna, Brennan, Bailey, Zoe, Mia, Lucas and Emme; along with longtime friends the McCaffrey family.
A Funeral Mass will be held Wednesday at St. Matthew the Evangelist Parish at St. Theresa Church, 466 Boston Rd., Billerica at 11 a.m. Per current CDC and State Guidelines face coverings will be required at all venues and attendees must sign up at
https://cli.re/ccb-funeral-signup
Burial with military honors will take place at Fox Hill Cemetery, Billerica. Memorial contributions may be made to St. Jude Children's Research Hospital.
Read More
Previous Events
Funeral Mass
St. Theresa Church
466 Boston Rd.
Billerica, MA 01821
Burial
Fox Hill Cemetery
130 Andover Rd.
Billerica, MA 01821