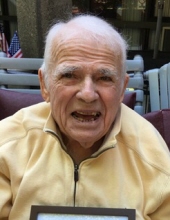 Obituary for Timothy J. Gearin Sr.
Timothy J. Gearin, Sr. – Age 86, beloved husband of the late Charlotte (Oskowski) Gearin, passed away peacefully on Tuesday, December 15, 2020.

Tim was born in Boston on October 2, 1934 and was the son of the late George and Elizabeth (Atkinson) Gearin. He grew up in Dorchester, MA until moving to Billerica in the early 1960s.

Tim was a Veteran who gladly served in the National Guard. He worked for New England Telephone as an installer and repairer in and around Boston, Arlington and Belmont. His warm and friendly persona were a welcome to homeowners who needed assistance with their telephone service whether inside their homes or at the top of the pole. After 40 years of dedication, he retired. He loved to travel with his wife, most often to Florida but also to Alaska and Ireland. He also enjoyed getting together with friends, woodworking, taking care of his home, helping his kids and being a good neighbor. He was a member of St. Theresa Church and was often by the door at the end of Mass handing out bulletins.

Tim is survived by his children, Timothy Gearin, Jr. and his wife Kelly of Holyoke, Cheryl Arouchon and her husband Charles of Scituate, James Gearin of Gardner, and Anne Rogan and her husband Thomas of Acton. He is also survived by his six grandchildren of whom he was very proud; Julie, Kayla, Jessica, Jennifer, Olivia and Caleb, and one great-grandson, Jacob.
A private Funeral Mass will be held at a future date at St. Matthew the Evangelist Parish at Theresa Church, 466 Boston Rd., Billerica, MA.
Read More