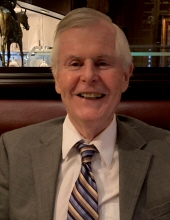 Obituary for Thomas J. Brien
Surrounded by his loving family, Thomas J. Brien, 79 of Billerica, passed away peacefully at his home on November 13th after a long battle with Cancer. He was the beloved husband of the late Mary T. (Martineau) Brien. Tom, first generation Irish American, was born in the Mission Hill section of Boston on November 5, 1943 to the late William and Beatrice (Downey) Brien of Ireland. He proudly served in the US Coast Guard and after his service, he graduated from Northeastern University.
Tom enjoyed spending time with his family, reading a good book, watching fireworks, going to Bruins games, and traveling to Aruba and Ireland with his wife Mary. He was most proud that he and his wife Mary of 56 years, had raised four beautiful successful children and loved spending anytime he could with them as well as his beautiful grand children, Maggie and Liam Brien.
Tom was a man to set goals and more often than not he exceeded them. As a member of Toastmasters for over 35 years, he served as President of Toastmaster International. He reached the level of DTM (Distinguished Toastmaster) six times, an achievement that most peopel do not even achieve once in a lifetime. Tom was a very humble man and believed in giving back to his community with his time. Along his journey he helped youth organizations and taught speech craft courses at Burlington High School as well as teaching public speaking course for troubled youths. He believed the confidence these youth would gain by participating in public speaking, would help keep them on the right path.
Figuratively speaking, Tom ran the marathon of life with all of his many passions. Literally speaking, he ran 3 full marathons as well as the Baystate half marathon. Not being a runner, at the age of 52, he took up running with the goal to run the 100th Boston Marathon. He reached that goal and ran that year with Team in Training for the Leukemia Society and returned to do it again a year later all while raising more than double the amount of money that was required at the time to join their team.
Tom was a firm believer in consistency, "If you want to be successful you have to do something repetitively. Every day get into a pattern and continue to do it and you can't help but improve. Hey, you may be lousy the first time, but just think about what it will be like the 10th time. It's easy to quit. I see people all the time and they just stop. Run one mile and conquer that. Then run a mile and a half and conquer that. I used to be afraid to speak publicly and two years later I'm running conferences. You have to be open to take that risk! You have to say I am going to try that!"
There was no quit in Tom and in 1991 when he was laid off from his job of 10 years, he saw a niche market and decided to start his own freight auditing company. With a lot of hard work and dedication he became a successful entrepreneur until he finally retired from TRAC Services in August 2022.
Tom had an amazing sense of humor and could always find something positive in anything he encountered. All who knew him could depend on him for sage advice as well as a good laugh. His dry wit and quick delivery could make you laugh at even the most difficult of times. He always found things to be positive about even while undergoing aggressive cancer treatment. He would often remark during some of the toughest moments, that at least he didn't have it as bad as some others he had seen at the hospital, even though, in fact, he did.
He is survived by his four loving children, Tommy W. and his wife Piper McNaney Brien of Wallingford, CT, Mary Grace and husband Jeffrey Freeman of N. Chelmsford, Timothy Brien of Boston, Carolyn and her husband Adam Hutchinson of Lowell, and one sister: Ann Labbe of South Yarmouth. He also leaves four sisters-in-law: Sister Irene Martineau, SASV of Lowell, Annette O'Brien of Wellesley, Maureen Brien of West Roxbury, and Jeannine and her husband Arthur Francis of Salem; three brothers-in-law: Bernard Martineau and his wife Ginette, Jean-Claude Martineau and Jean-Guy Martineau all from Salem: two grandchildren Maggie Brien of Fort Worth, TX and Liam Brien of Wallingford, CT and many nieces and nephews that he loved dearly. He is pre-deceased by his brother William Brien of West Roxbury and sister Peggy Brien McIrney of Jamaica Plain and brothers-in-law Robert Labbe and Walter McIreny.
.
Visiting hours will be held at the Sweeney Memorial Funeral Home, 66 Concord Rd. Billerica, from 4 to 6 PM on Wednesday, November 16, 2022. A Funeral Mass will be held at St. Matthew the Evangelist Parish at St. Theresa Church, 466 Boston Road, Billerica, 10 AM on Thursday, November 17, 2022. Burial in St. Joseph Cemetery, E. Chelmsford. If so inclined, please consider a donation in his memory to the Cam Neely Foundation,30 Winter Street, 2nd Floor Boston, MA 02108 www.camneelyfoundation.org
Read More
Previous Events
Visitation
Sweeney Memorial Funeral Home
66 Concord Road
Billerica, MA 01821
Funeral Mass
St. Theresa Church
466 Boston Rd.
Billerica, MA 01821
Burial
St. Joseph Cemetery
96 Riverneck Rd.
Chelmsford, MA 01824