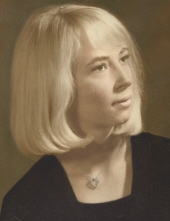 Obituary for Susan E. Clark-Cook
Loving Mother, Grandmother, Sister and Friend

Lowell—Susan E. Clark-Cook—Age 71, passed away unexpectedly Thursday, May 17 at Norwood Hospital.

She was born in Toledo, Ohio, on August 2, 1946, a daughter of the late George and Nancie (Maddox) Clark. She lived in Ohio for much of her life before moving to the East Coast to be close to the ocean she loved. She made her home in Billerica for many years, before moving to Lowell in her retirement.

Susan was a beautiful, intelligent, and well-respected woman among her family, friends, and peers. Although she left college to start her family, she was always determined to return. She received her bachelor's degree from the Ohio State University, and gave birth to her fourth daughter while earning that honor. She went on to earn a doctorate in psychology from Wright State University, all while raising her four daughters. She was immensely proud of all the obstacles she overcame and the education she obtained. Susan was a clinical psychologist at Bentley University for 20 years, and also served as an adjunct professor there. She was well-loved by her students for her non-judgmental nature and her deep-rooted desire to help anyone in need. She was devoted to those who were different, those who needed a shoulder and a friend. Susan's life calling was helping others, and she did it with passion and aplomb.

Even after her retirement, Susan still loved to learn, and she could always be found with a book in hand. She loved to paint, go to the movies, and listen to music — especially Barbra Streisand, who she was always happy to dance and sing along with. Her soft heart kept her surrounded by furry friends her whole life, and she loved to play with her dog, Piper.

She is survived by her four beloved daughters, Dawn Clark of Nashua, NH; Heather Garrett of Crossville, TN; Jennifer Garrett of Millis, MA; and Leslie Derochers of Deltona, FL; three grandchildren, Kirsten Garrett, Eli Adkins, and Orion Derochers; two brothers, Michael Clark of Toledo, OH, and Jeffrey Clark of Toledo, OH; two sisters, Linda Stetler of Toledo, OH, and Debbie Clark of Toledo, OH, as well as many friends and students who loved her dearly.

CLARK-COOK—of Lowell, age 71, Susan E. Clark-Cook, A Memorial Service will be held Wednesday at the SWEENEY MEMORIAL FUNERAL HOME, 66 Concord Road, Billerica, at 12 p.m. Relatives and friends are respectfully invited to attend. In lieu of flowers, memorial contributions may be made in Susan's honor to the Dana-Farber Cancer Institute, P.O. Box 849168, Boston, MA 02284, or to Planned Parenthood Federation of America, Inc., P.O. Box 97166, Washington, DC 20090.


Previous Events
Memorial Service
Sweeney Memorial Funeral Home
66 Concord Road
Billerica, MA 01821