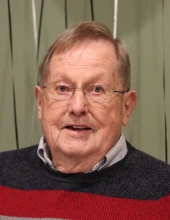 Obituary for Russell P. Seversen
Russell Peter Seversen of Billerica, passed away the morning of Friday, March 25 at Sunny Acres Nursing and Rehabilitation Center in Chelmsford, Mass. He left this world peacefully after a brief illness.
Russell was above all else a devoted husband, loving father, grandfather and great grandfather, known far and wide for his giving nature and compassion for others.
Born October 20, 1926, in Brooklyn, New York to Russell and Alida Seversen, Russell moved with his family to Old Greenwich, Connecticut in 1946. He graduated from Brunswick School in Greenwich, Conn., in 1944 and studied mechanical engineering at Yale University from 1944 to 1946. In 1964, he attended Boston University where he earned a bachelor's degree in mechanical engineering in 1968.
Russell married Margo Carol Meyer on April 12, 1958, in Peekskill, New York. The couple settled in Mt. Kisco, New York before moving to Bedford, Mass. in 1964 and ultimately to Billerica in 1972.
Having served in the Navy, Russell pursued a career in engineering, taking a research position at Perkin Elmer to design optical alignment systems for the atomic submarine, George Washington.
Russell then played an important role in the Apollo 11 space mission, when the Lunar Module touched down on the surface of the moon for the first time on July 20, 1969. As project officer, he coordinated the design of the Apollo's Command Module and Lunar Excursion Module's (LEM) optical navigation system.
Russell and his team provided the sextant, the optical instrument used as a back-up in the event the onboard computer lost its pre-programmed celestial navigation information. They also supplied the optical periscope, which was the instrument used to survey the landscape for a good landing site.
Russell's next research project was the development of an X-ray telescope to explore X-ray emission from the Sun and near nebulas. He also served as project engineer and test engineer on the production of star trackers essential in the navigation system used on the Viking and the Mars, Venice, and Neptune probes. From there, he entered the realm of management as senior program manager on the development and build of the deployment module for the MX missile.
In his retirement, Russell busied himself by studying sub particle physics or Quantum Mechanics and Einstein's Theory of Relativity. He also found great pleasure in repairing clocks.
Russell is survived by his daughters, Karin Seversen of Londonderry, NH and Wendy Mercurio and her husband William of Wakefield; three grandchildren, Paul F. Bonnell, Jr., Nicole Mercurio and Matthew Mercurio, and 1 great granddaughter, Taylor Bonnell. He is predeceased by his wife, Margo Carol Meyer and his sisters, Joan Seversen Giles and Carole Elaine Parker.
A private funeral service is being held. In lieu of flowers, the family asks that you donate to the Salvation Army in Russell's name.
The Seversen family would like to extend its deepest appreciation to all their friends for their outpouring of love and support.