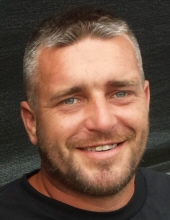 Obituary for Robert Sean Boisvert Sr.
Robert Sean Boisvert Sr., beloved husband of Melissa McLaughlin passed away by injuries sustained due to an accident inside of Conley Terminal in Boston, MA on Wednesday, June 15th, 2022.
Robert was born in Lowell, MA on April 4th, 1981. He was the son of Irene M. (Molda) Riley of CA and her husband Dennis and the late Raymond J. Boisvert II. Robert grew up in Lowell, MA before moving to Billerica over 10 years ago.
Robert was employed as a truck driver for REAS Transportation of North Billerica where he was known as "The Champ".
Besides his wife, he is survived by two sons, Robert S. Boisvert Jr. and his fiancée Krista, and Darren Boisvert and his bonus son Richard Downing, his wife Natalie and Robert and Melissa's beloved Godson Mason. Robert is also survived by his three brothers, Larry Boisvert and his fiancée Andrea of Lowell, Raymond Boisvert III and John Molda, two sisters, Rosie Boisvert of Pepperell and Tracey Boisvert. His mother and father in law Susan and Michael McLaughlin, his sisters and brothers in law Megan McLaughlin, Greg Rosa, Nicole and Randy Jemery. Robert was soon to be the proud "Grumpy" of Stephen Robert Boisvert. He is also survived by his beloved nieces Briana Weldon, Desarai, Ashlei, Ciara, Makaeli, Madison, Maylah Boisvert, Ava Alosco and his nephews Joseph Boisvert and Harry Rosa. Along with being the beloved great uncle of Dante, Matteo, Rosalia, Noah and Luca, Robert was survived by his Grandparents Clifford and Thelma Holson and his aunts Cherie Auger and Sydney Lally. Robert was predeceased by his Uncle Joseph Lally.
Robert was known for dressing comfortable and hated wearing "picture pants", so the family encourages visitors to dress casual or whatever they are comfortable wearing.
Until we see you again, "Bye Felicia".
A Memorial Visitation will be held at the Sweeney Memorial Funeral Home, 66 Concord Rd., Billerica Saturday, July 9, from 1 – 4 p.m. immediately followed by a celebration of his life at the Moose Lodge, 104 Boston Rd., Billerica from 4 - 8 p.m.
In lieu of flowers, contributions to help Robert's family with current and future expenses may be made by
clicking here
Read More
Previous Events
Memorial Visitation
Sweeney Memorial Funeral Home
66 Concord Road
Billerica, MA 01821
Celebration of Life
Billerica Moose Lodge
104 Boston Rd.
N. Billerica, MA 01862