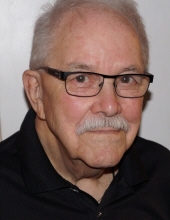 Obituary for Robert A. Hurley
Billerica- Robert "Bob" A. Hurley – Age 84, devoted husband of the late Diane C. Hurley (Wakefield) formerly of Jackman, ME, passed away after a short illness on Sunday, January 17th surrounded by his beloved family members.

Bob was born in Fall River, February 8, 1931, only child of the late D. Joseph and Mary (Daley) Hurley.

Among other accomplishments in life, Bob was a Korean War Veteran (US Air Force), gifted high school teacher, football and basketball coach who was inducted into the Hall-Dale High School Hall of Fame in Hallowell, ME, US Immigration and Naturalization Service Supervisory Special Agent, talented artist, avid fly fisherman, friend of dogs, and keeper of tales that he shared without reservation.
After he retired, Bob became very active in the town of Billerica. He spent 20 years as a substitute teacher at the Shawsheen Tech. He served on the board for the Arts Council, and the Cultural Council; He was the Chairman of the Board for four years for the Council on Aging, and until his passing was serving as a board member. He was an active member of the Senior Citizen's Center and a volunteer at BATV.
Most importantly he was the husband of Diane, the love of his life; who predeceased him. Father to Maria Hurley & her husband John Plouffe, of Newcastle, ME, and Kevin Hurley of Ocala, FL. Grandfather to Johanna Rowley & her husband Adam, with whom he resided, and great-grandfather to Sadie, Jackman and Sawyer Rowley who were his joys in life.
Bob was a "bonus grandfather" to many close family friends, including Nicholas & Matthew Piacenza, both of Hudson, NH, John Casey, his wife Catherine, their son Keagan, and MaryElizabeth & Emma Casey, all of Lowell, MA; Brendan Casey, of RI, and Jared and Derrick Kane, both of New Hampshire. He will be greatly missed by the Murtha and Hall families, and all of the Leonard Clan.
He was truly a good and honorable man who was loved by many and will be fondly remembered by all who had the good fortune to know him.

HURLEY – Of Billerica, Robert "Bob" Hurley, A Memorial Mass will be held Saturday, Jan. 30 at St. Andrew's Church, Talbot Ave., Billerica at 10 a.m. A Celebration of Life at the Billerica Country Club will immediately follow. Relatives and friends respectfully invited. In lieu of flowers, memorial contributions may be made in Mr. Hurley's name to the Shawsheen Valley Technical High School,100 Cook St., Billerica, MA 01821, C/O Shawsheen Scholarship Fund.


Previous Events
Funeral Mass
St. Andrew Church
45 Talbot Ave.
N. Billerica , MA 01862