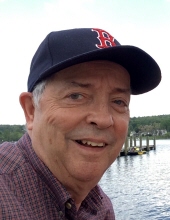 Obituary for Richard M. Travers
Richard "Dick" M. Travers of Billerica, passed away peacefully on Dec. 17th after a brief illness at age 76. Beloved husband of Linda M. Travers. Devoted father of daughters Julie Pollock and husband Aaron of Bradford, MA, and Lori Travers of Milford, MA. Adored Grampy to Alanna, Caelum, Marlee, Brielle, Cian, and Jack. Loving son of the late Gilbert and Elizabeth Travers. Dear brother to Robert Travers of Andover, MA, Steve Travers of Merrimack, NH, and the late Donald Travers of Fort Myers, FL. Treasured uncle to many nieces and nephews.

Originally from Rockport, he was a 1962 graduate of Rockport High. He played centerfield for the high school baseball team. His love of baseball started at an early age with Little League and sandlot games filling his summer; always eager to chase balls from anyone willing to hit them to him at Evans Field. After high school, he wanted to keep playing ball, so he and his good friend teamed up to bring back the Rockport town team, and they worked together to gain them entry into the Intertown Twilight League (the oldest active amateur baseball league in the nation). He was recognized for this effort and inducted into the ITL Hall of Fame. Richard never outgrew his love of baseball; fielding for the Rockport Townies for 14 seasons, participating in Red Sox fantasy baseball camp at the age of 50, making it into the playoffs in an Over 30 league at the age of 61, and still running the bases and throwing the ball at a local ball field until recently.

Richard was a good-natured man of service, integrity, and humor. He enjoyed situation comedy and clever word play (he was a master of one-liners and puns, and known for his sharp wit). He served 6 years in the National Guard, was a deacon in his local congregation, and gave generously of himself to his family. His grandchildren loved their fun Grampy, and he enjoyed making them laugh. They knew when they had Grampy in their corner, their odds for ice cream were high. From there always being a quart of Brigham's vanilla ice cream in the freezer, to knowing all the best local ice cream stands from Kimball Farm to Cherry Hill Farm, he loved all things ice cream.

An avid sports enthusiast, music lover, and television and movie trivia expert - Richard was Google to friends and family before Google. He had an unbelievable memory and could easily remember obscure names, dates, and statistics. He loved old black and white shows and westerns, two favorites being Gunsmoke and The Andy Griffith Show. After many years of grabbing up same-day tickets, Richard became a season ticket holder to the Boston Celtics for 8 seasons, witnessing the 68 and 69 Championships. He enjoyed composing original music and recording covers of favorite songs in his home studio.

He began his working career at the United Shoe Company in Beverly as a messenger, and worked his way up the ranks to bookkeeping and accounting. Richard was a Senior Accountant and dedicated employee for 32 years at John A Penney Company of Cambridge.

He met his loving wife and best friend of 45 years, Linda, at work during his years as Accounting Manager at Limbach Company in Woburn. Their marriage was a true example of unconditional love, and they were each other's perfect complement. They began their married life together in Woburn, later moving to Arlington, MA to raise their two daughters, and finally settling in Billerica in 2000 after finding their perfect home. Though he had many passions and interests, his family was always his top priority.

While there will be no formal service at this time, friends and family are strongly encouraged to share stories and photos from Richard's life to bring comfort to the family at RememberingRichardTravers@gmail.com.

A Celebration of Life will be held at a future date. He will be deeply missed and forever remembered as an honorable man by those blessed to have known him. In lieu of flowers, memorial donations may be made to the Remembering Richard Travers Fund at PO Box 5367, Haverhill, MA 01835, or through PayPal at paypal.me/rememberingrichard This fund will be used to create a lasting tribute in Richard's name at the Kaplan Family Hospice House of Danvers, MA. They provided compassionate care and support during a difficult time. It is our intention to support their mission by dedicating a brick in Richard's name for their Garden of Remembrance.


Events