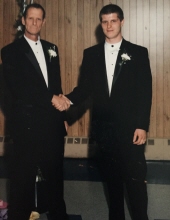 Obituary for Richard F Cushing
Richard "Rich" F. Cushing

Beloved Son, Brother, Uncle, Great-uncle and Father

BILLERICA – Richard F. "Rich" Cushing, age 43, died Thursday August 27, 2015 at his home.

He was born in Chelsea, March 26, 1972, the beloved son of Nancy L. (Foye) Cushing and the late George S. Cushing Jr. and was a lifelong Billerica resident.

Rich worked as an auto mechanic for his brother at T&J automotive in Billerica.

Besides his mother he is survived by two brothers, George S. Cushing III of New Mexico and Ted Taker of Billerica; three sisters, Tammy Cundiff of South Carolina, Lori Cushing of New Mexico and Theresa Alden of Shirley, several nieces and nephews, three great-nieces and his beloved daughters.

All services will be held privately and at the convenience of his family. A celebration of Richard's life will be held at a later date and details will follow.