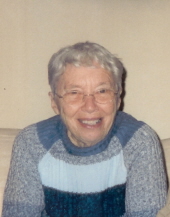 Obituary for Phyllis M. Laurendeau
Phyllis M. Laurendeau - Age 86, beloved wife of Wilfred "Bill" J. Laurendeau Jr. died peacefully Friday at the Lahey Clinic in Burlington.
She was born in Lowell, May 28, 1924, the daughter of the late Gladys C. (Harrigan) Hunter and was a resident of Billerica all of her life. She attended Billerica schools, and she graduated from Howe High School in 1942. After graduation, Mrs. Laurendeau worked for Raytheon in the Missile and Radar Division until 1952.
In 1959, Mrs. Laurendeau assisted her husband in the opening of the Sweeney Memorial Funeral Home, and together they ran the business until 1985. She was a member of the former Billerica Fireman's Wives and enjoyed crocheting, knitting, needlepoint and working in her gardens at her home in NH. Her greatest love was her family and friends in Billerica, Moultonboro, NH and Clearwater, FL, where she lived with her husband after their retirement.
Besides her husband, Mrs. Laurendeau is survived by her sons, William J. Laurendeau and Dean M. Laurendeau and his wife Maryann Harring Laurendeau of Billerica; her granddaughter Jana Harring Laurendeau. She also leaves her nephew Daniel Shea and his wife Carol of Moultonboro, NH. She was the sister of the late Jane Lewis.
LAURENDEAU - Of Billerica, July 23, Phyllis M. (Hunter) Laurendeau. A Funeral Mass will be held Monday at St. Theresa Church, One Grace Ave., Billerica at 11 a.m. Relatives and friends respectfully invited. Visiting hours will be held Sunday from 1-4 p.m. Memorial contributions may be made to the Alzheimer's Association, 311 Arsenal St., Watertown, MA 02472. Burial in Fox Hill Cemetery, Billerica.