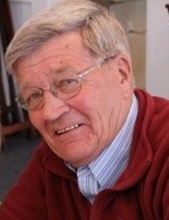 Obituary for Philip C. Farmer
Philip Clyde Farmer, age 77, beloved husband of Karen McDewell Farmer, father, grandfather, friend and confidant to many, died Saturday, March 13th with his wife and children by his side, 30 years to the month after beginning a courageous and hard fought battle against heart disease.

Phil was a lifelong resident of Billerica and a 14 year seasonal resident of Orlando, Florida. He and Karen were married 55 years and fulfilled their dream of building a family. He is survived by his 5 children and their spouses; Philip and Tiffany Farmer of Carlisle, Jody Farmer and Paul Frazier of Groton, Jennifer Farmer and Michel Gravel, Nicolas and Shelly Farmer, Zachary and Christine Farmer, of Billerica. Lovingly called "Grampa" by his 10 grandchildren; Isabelle and Fynn Frazier, Ella and Mason Farmer, Myles and Lucille Gravel, Zachary and Travis Farmer, Rylan and Ashlan Farmer. Phil was the son of James Everett and Phyllis Farmer, son-in-law of Dorothy (Jenkins) and Bernard McDewell, brother of James, John, David (deceased), sister Diane Bennett and uncle to many nieces and nephews.

Phil began his career in construction and land development by working for his family's business. He went on to establish his own business in which he remained a vital part until the time of his death. He graciously shared his extensive knowledge, spending many hours at his kitchen table advising friends and family. He served as the Superintendent of Building and Grounds for Billerica Public Schools for nearly a decade. In his desire to give back to his community, he enjoyed many volunteer activities including planting trees at schools, plowing snow for his church, and solving environmental issues in town buildings. Phil was a member of Saint Mary's Church in Billerica and served in many capacities when called upon.

Phil was a compassionate, humble man of integrity who cared deeply for others. He loved all heavy equipment (excavators, trucks, backhoes, bulldozers), deep sea fishing, boating, horses, spoiling his children and grandchildren and spending time with his friends. He enjoyed music and dancing. He shared his love of nature and adventurous spirit with his children, their friends and cousins. He was part of a loving community in Orlando, who referred to him as John Wayne. The greatest joy of his life was being with his wife, Karen, whom he adored and cherished every day.

Due to the Corona Virus, private funeral services will be held through Sweeney Memorial Funeral Home, Billerica. www.sweeneymemorialfh.com. Memorial contributions may be made to the Billerica Community Pantry, P.O. Box 285, Billerica, MA 01821.
Read More