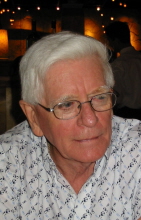 Obituary for Paul R. Dermody
PAUL R. DERMODY - Age 77, husband of Joanne M. (Abatematteo)(Carr) Dermody and the late Jean (Tuttle) Dermody died Tuesday at the HealthPark Medical Center in Ft. Myers, Florida.

He was born in E. Boston, July 17, 1933 the son of the late George and Anna (O'Keefe) Dermody and lived in Billerica for many years before moving to Florida in 1997. He was a graduate of Bentley College. Mr. Dermody served in the Air Force during the Korean War.

He was employed as an Accountant having retired from Siemens Nixdorf.

Besides his wife, Mr. Dermody is survived by his son, Michael Dermody of Groton; his daughters, Paula Khan of Bethesda, MD, Anne-Marie Norman of Billerica and Kathleen Rivet of Sudbury; his step-son, Michael Carr of GA; his step-daughter, Terri Marzullo of Malden and Sandra Senecal of Ft. Myers, FL; his sister, Dorothy Girolamo of Malden and is also survived by 11 grandchildren.

DERMODY - Of Ft. Myers, FL, formerly of Billerica, Sept. 14, Paul R. Dermody. Funeral Saturday from the SWEENEY MEMORIAL FUNERAL HOME, 66 Concord Rd., Billerica at 7:30 a.m. A Funeral Mass will be held at St. Theresa Church at 8:30 a.m. Relatives and friends respectfully invited. Visiting hours will be held Friday from 4-7 p.m. In lieu of flowers, memorial contributions may be made to the American Lung Association, 460 Totten Pond Rd., Waltham, MA 02451. Burial in Fox Hill Cemetery, Billerica.