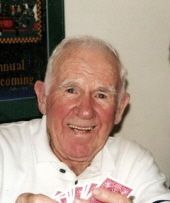 Obituary for Patrick D. Morey
PATRICK D. MOREY - Age 89, husband of the late Evelyn C. (Powers) Morey died Saturday at his home.

He was born in Torbay, Newfoundland, Canada, the son of the late Robert Morey and Catherine (Quigley) Morey and lived in Billerica since 1955. Mr. Morey was a self-employed roofer for many years prior to his retirement. He was a former member of the Billerica Lodge of Elks and the Irish American Club.

He is survived by his 6 sons, Philip Scarpaci of FL, Robert Morey of ME, David Morey, James Scarpaci, John Scarpaci and Stephen Morey all of Billerica; 6 daughters, Donna Feetham and Evelyn Mayhew of Milton, Barbara Chronowski of Dracut, Patricia Brown of Sutton, Debbie Carlson of CO and Peggy Morey of Billerica; brother of Margaret Mahon of Canada. He is also survived by 28 grandchildren and 7 great grandchildren.

MOREY - Of Billerica, Aug. 8, Patrick D. Morey husband of the late Evelyn C. (Powers) Morey. Funeral Tuesday from the SWEENEY MEMORIAL FUNERAL HOME, 66 Concord Rd., Billerica at 8 a.m. A Funeral Mass will be held at St. Theresa Church at 9 a.m. Relatives and friends respectfully invited. Visiting hours will be held Monday from 4-8 p.m. In lieu of flowers, memorial contributions may be made to the American Heart Association, 20 Speen St., Framingham, MA 01701. Burial in Fox Hill Cemetery, Billerica.