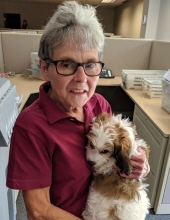 Obituary for Patricia L. Berrett
Patricia L. "Pat" (Shaw) Berrett, age 70, beloved wife of Ralph E. Berrett III died unexpectedly Monday at Lahey Hospital and Medical Center in Burlington with her family by her side.

She was born in Medford, January 25, 1949 a daughter of the late William S. and Margaret M. (Conway) Shaw and lived in Woburn before moving to Billerica 25 years ago.

Pat worked at F. W. Webb Company at their Bedford Headquarters for 32 years and was well known for walking her dog Miss Peanut on Middlesex Turnpike in Billerica over 2 ½ miles daily.

Besides her beloved husband Ralph E. Berret III she is survived by her children, Disa M. Berrett and Ralph E. Berrett IV both of Billerica; her siblings, William J. Shaw and his wife Tracy (Sullivan) Shaw of Billerica and Maureen (Shaw) Burnham of Lowell and extended family Kate (Flynn) Burnham, Matthew Burnham, Claudia (Martineau) Burnham, David Burnham, Elizabeth (O'Donnell) Burnham, Abby Burnham; Hope (Burnham) Eacrett, Allison Eacrett, Zachary Eacrett; Derek Burnham, Gayle (Machado) Burnham; Michael P. Shaw; Jeannet (Leveille) Brown, Eric Brown, Hannah Brown; Michelle (Berrett) Sykes, Phillip Sykes, LuAnne Sykes; David Sykes, Martha Sykes, Dylan Sykes; Heidi (McDonald) Leveille, Chase Leveille, Wyatt Leveille, Mia Leveille, Elise Leveille; Joe Conway, Mary Conway, Pamela Boriello, Richard Boriello, Jimmy Conway and Karen Conway; Predeceased by William S. Shaw, Margaret (Conway) Shaw, Arthur Burnham, Arthur "Artie" Burnham Jr., Natalie Eacrett, William J. Shaw Jr., Ralph E. Berrett Jr., Yvonne (Berrett) Leveille, Carl Sykes, Katherine G. (Meahan) Berrett, Brandon Leveille and Matthew Leveille.

A Celebration of Pat's life will be held Saturday, January 18, at Billerica Lodge of Elks, 14 Webb Brook Rd., Billerica from 12 – 3 p.m. Relatives and friends respectfully invited.

PLEASE OMIT FLOWERS…We all know how Pat felt about "Family over Flowers"

In lieu of, memorial contributions may be made to the Leveille Family College Savings Plan, https://go.fidelity.com/kcsw4 or check made payable to FID INV, PO Box 770001, Cincinnati, OH 45277-0015, memo Acct #618315306.


Previous Events
Celebration of Life
Billerica Lodge of Elks
14 Webb Brook Rd.
Billerica, MA 01821