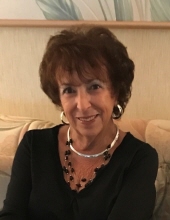 Obituary for Nancy A. Rossi Murch
Nancy A. Rossi Murch of Billerica, MA, age 84, adoring wife of David Murch and
loving mother of four daughters and five grandchildren, passed away
unexpectedly on Tuesday, May 31, 2022, surrounded by love.

Nancy grew up in Lexington, MA with her parents William and Elizabeth Waters and her
four siblings. She graduated from Lexington High in 1956, and went on to attend Lowell
Academy Hairdressing school. In 1986, she purchased As You Like It Hair Salon in
Acton, MA with her daughter Marlene, where she worked for 36 years with many
different beloved talented staff including two daughters and her sister. In the early days,
she was a force in the hairdressing world, and truly loved her profession for her entire
career! She cherished the deeply personal relationships she developed with her clients,
many of which became life-long friends.

Nancy and her husband David traveled extensively around the world. She especially
loved cruising because she could wear her beautiful gowns and jewels! In 1998 they
bought a home at Landmark Naples in Florida, where they eventually spent the winter
months. She loved the time she spent at Landmark, and the many wonderful
friendships she formed over the years. It was truly her happy place!

Nancy, AKA "Fancy Nancy" was always the best dressed in the room. She was fun,
funny, kind, caring and extremely generous. Besides spending time with her family and
friends, she enjoyed ballroom and country western dancing, puzzles, bocce, dining out,
attending aquasize classes, cooking (she was an amazing cook) and especially
watching events that showcased her grandchildren! She was a stunningly beautiful
woman both inside and out! Her caring heart touched the lives of many, and her
energetic spirit, infectious laugh and love of life kept us all smiling!

In addition to her husband, Nancy's greatest joys were her four daughters and their
families: Cindy Mazzone and her children Nicholas and his wife Toni, her daughter
Jessica; Marlene Maffei-Ryan and her daughter Rachael and fiance Dave McDonough;
Justine Smith and her husband Curt, their daughter Jocelyn and son Tyler; and her
youngest daughter Sharon Maffei.

She also leaves behind her loving sisters, Jodi Davies and Joyce Rogers, her
deceased brother Billy Waters, nieces, nephews, great-nieces, great-nephews,
relatives and dear friends that were like family!

Friends who wish may make memorial contributions in Nancy's name to St. Jude
Children's Hospital or the American Heart Association.

Per Nancy's wishes, there will be no wake or funeral services.
Read More
Events