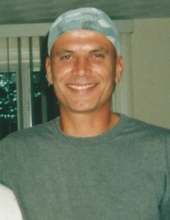 Obituary for Michael P. Fuller
Michael (Mike) P. Fuller – Age 62, died Tuesday at the Care Dimensions Hospice House in Lincoln with his mother and daughter by his side. He fought a long hard battle against prostate cancer which led to end stage renal failure and dialysis, heart disease and eventually cancer of the bones.
Michael was born in Brooklyn, NY, October 3, 1958, the third born child of Arlene (Longo) Fuller of Billerica and the late Donald R. Fuller Sr. and lived in Billerica for most of his adult life.
Besides his mother, Michael is survived by his two children-daughter, Dawn-Marie Fuller and her husband Keith Jenkins of Billerica, and son Matthew R. Fuller and his partner Roberto Rivera of North Andover; his former wife, Sara (Ripa) Murray and her husband Joe Murray; his brothers, Donald Fuller and his wife Peggy of Hudson, NH, Mark Fuller and his wife Roberta of Pelham, NH and Glenn Fuller and his fiancé Tammy Tenney of Windham, NH; his sister, Lynn Morse of Shirley and the late Warren Morse. He is also survived by many nieces, nephews, and cousins.
Michael could do almost anything and enjoyed learning new skills. Michael was employed primarily as an Electrician having worked for East Coast Electric in Westford for many years and D&D Electric in Woburn prior to falling ill. Michael was very dedicated to his career and took pride in his expertise and methodical work ethic. He was always willing to offer a helping hand and educate those wanting to learn.
Michael was a minimalist. He loved to fish (especially with his father and brother in law) and the peacefulness of nature. He loved the ocean and collecting rocks from different places. He had a green thumb, keeping his grandmother's plant growing for decades. Michael loved taking the time to enjoy good company, conversation, music and a five course meal. Some of his favorites were Frank Sinatra, all things parm, anything Ma's cooking, chocolate, peanut butter and ice cream. He had his parent's rhythm and was a great singer and dancer.
Michael was close to his family and spent much time with them. Michael, most of all, was a person with a giant heart. He was a loyal trust worthy person who always looked out for his family and those he loved. His children were his world and wanted them to be happy and safe. Michael always made sure his children were respectful and used good manners. He was incredibly proud of both of them.
Michael was always so strong and never wanted to be a burden. He kept his independence until the very end.
On his behalf, we would like to thank those that took care of him these past years especially those that went the extra mile for him; Dr. Walshe who was the one doctor he trusted the most and who took the time to listen and then be straight with him; his right hand gal Kim Brinkman NP, Richard Ma, Danny at DaVita (Burlington) and Rich from 4 Mt Pleasant Street apartments. Thank you from us too for all that you did.
Michael touched our hearts and will be missed immensely.
A Funeral Mass will be held Saturday at St. Matthew the Evangelist Parish at St. Mary Church, 796 Boston Rd., Billerica at 10 a.m. Per current CDC and State Guidelines face coverings will be required at all venues and attendees must sign up to attend the Funeral Mass
https://cli.re/ccb-funeral-signup
Interment will take place at the Fox Hill Cemetery, Billerica. Memorial contributions may be made to the National Kidney Foundation.
Read More
Previous Events
Funeral Mass
St. Mary Church
796 Boston Rd.
Billerica, MA 01821
Graveside
Fox Hill Cemetery
130 Andover Rd.
Billerica, MA 01821