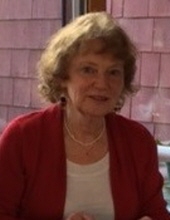 Obituary for Mary J. Hentz
Billerica – Mary J. Hentz – Age 81, wife of the late Robert E. Hentz died unexpectedly Friday at the Lahey Hospital in Burlington.
Mrs. Hentz was born in Lawrence on May 19, 1937 and was the daughter of the late Fredrick and Dagmar (Wilson) Scharn. She lived in Billerica for most of her life.
Mary was an extraordinarily kind and caring person who made everyone feel loved and welcome. She was an avid reader and an amazing cook. She loved spending time with her family. She was loved and will be deeply missed by everyone who knew her.
She is survived by her sons, William Hentz and his wife Michelle, Steven Hentz and his wife Jean, all of Billerica; her brothers, Harold Scharn of Lawrence and Frank Pohle of Vancouver, Washington. She is also survived by six grandchildren; Derek Hentz, Sarah (Hentz) Heron, Ashley Hentz, Stephanie Hentz, Courtney Hentz and Molly Hentz and ten great grandchildren. She was the mother of the late Robert Hentz Jr., grandmother of the late Danielle (Hentz) Griffin and sister of the late Rose Womble, Frederick, Robert and Raymond Scharn.
HENTZ – Of Billerica, Nov. 9, Mary J. (Scharn) Hentz. At the request of the family all funeral arrangements will be private and held at a later date. Memorial contributions may be made to the Alzheimer's Association, 309 Waverly Oak Rd., Waltham, MA 02452 in memory of her late husband.