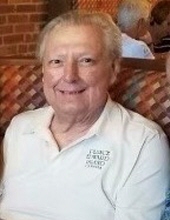 Obituary for Mark J. Arvanitis
Mark J. Arvanitis – Age 70, died unexpectedly on Tuesday at Lahey Hospital in Burlington.

He was born in Boston, January 19, 1952, son of the late James "Demo" and Katherine (Kolokotrones) Arvanitis. He was raised in Medford and lived in Billerica for over 30 years.

Mark was employed as a Chef and Kitchen/Restaurant Manager having most recently worked for American Food Systems and Old Neighborhood Foods prior to his retirement.

He is survived by his loving companion, Sheila Papia of Billerica and her son, Stephen Papia of Lowell; his daughter, Kristina Gasson and her husband Jonathan of Medford and their daughter, Keira Gasson, and his sister, Ellen Souris and her husband William of Winchester and their daughter Leah Souris.

At the request of the family, funeral arrangements will be private. Memorial contributions may be made to the American Heart Association, www.heart.org.