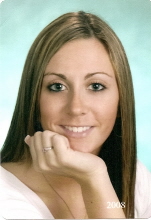 Obituary for Kristen M. Corbett
KRISTEN M. CORBETT - Age 20, died Thursday Dec. 10 at the Brackenridge Hospital in Austin Texas as the result of an automobile accident.

She was born in Lowell, November 22, 1989, loving daughter of Glenn P. and Carolyn H. (Dacey) Corbett and lived in Billerica all of her life.

Miss. Corbett attended the Shawsheen Valley Technical High School her freshman and sophomore years where she received three Citizenship awards and was a Varsity Cheer Leader. She then attended Austin Prep in Reading having graduated in 2008 where she played on the Varsity Hockey Team. She received an Academic Scholarship to U Mass Lowell and most recently was attending Austin Community College in Texas.

Besides her parents, Miss. Corbett is survived by her sister, Maureen Corbett and her brothers, John and Brian Corbett all of Billerica; her grandparents, Francis X. Dacey of Dorchester, M. Denise McKenzie and her husband Michael of Somerville, Patricia Corbett of Concord, NH, Dale and Sandra Crandall of Billerica and the late Kevin Corbett. She is also survived by many aunts, uncles, cousins and friends.

CORBETT - Of Billerica, by accident, Dec. 10, Kristen M. Corbett, A Funeral Mass will be held Thursday at St. Theresa Church, One Grace Ave., Billerica at 10 a.m. Relatives and friends respectfully invited. Burial will take place at Fox Hill Cemetery, Billerica. A celebration of Kristen's life will follow at the Billerica Lodge of Elks, Webb Brook Rd., Billerica until 4:30 p.m. In lieu of flowers, memorial contributions for a scholarship in Kristen's name may be made to the Enterprise Bank, c/o Doris Pearson, 674 Boston Rd., Billerica, MA 01821.