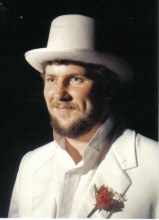 Obituary for Kevin P. Dalrymple
KEVIN P. DALRYMPLE - Age 49, died unexpectedly Friday at his home in Lowell.
He was born in Boston, February 7, 1960, the son of the late Paul Dalrymple and Jacqueline (Nickerson) Dalrymple and he lived in Billerica before moving to Lowell three years ago.

Mr. Dalrymple was employed as a Kitchen Manager for the Applebee's Restaurant in Tewksbury.

He is survived by his son, Kevin "Rymp" Dalrymple Jr.; his daughter, Samantha "Dz" Dalrymple and their mother, Susan Lutz all of Billerica; his brothers, Paul Dalrymple and Scott Dalrymple and his wife Brenda of Everett; his sisters, Joya Davis of CA and Lori Miller and her husband Joe of Billerica. Also survived by many aunts, uncles, nieces, nephews and cousins.

DALRYMPLE - Of Lowell, unexpectedly, July 3, Kevin P. Dalrymple. Funeral Friday from the SWEENEY MEMORIAL FUNERAL HOME, 66 Concord Rd., Billerica at 11 a.m. A Graveside service will be held at the Fox Hill Cemetery, Andover Rd., Billerica at 12 Noon. Visiting hours will be held Thursday from 5-8 p.m. In lieu of flowers, memorial contributions may be made to the Make a Wish Foundation, One Bullfinch Place, Boston, MA 02114. Funeral Directors W.J. and Dean M. Laurendeau.