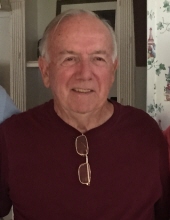 Obituary for Kevin Brown
Kevin Brown, age 76, beloved husband of the late Mary T. (Perry) Brown and the late Janyce (Churchill) Brown died peacefully Monday at his home with his family by his side after a year-long battle with pancreatic cancer.
He was born in Waltham, Sept 15, 1944 the fifth son and seventh child of the late Walter and Rita (Lynch) Brown and was raised in Watertown, graduating from Newton North, before moving to Billerica 48 years ago.
Kevin enlisted in the US Air Force during the Vietnam War and served in Southeast Asia. He was employed as a diesel technician for Cummins North Atlantic for nearly half a century.
He was a member of the Billerica Friends of Music, Billerica Sons of Italy, as well as the Shufflin' Shoes square dance club. He was an avid gardener and would never admit your tomatoes turned red before his. He was a memorable character, a natural talker, quick-witted, irreverent, and generous with his time. He believed in accepting people as they are and would want you to do the same, especially with your loved ones. He would have made that point more colorfully and bluntly.
Kevin is survived by his children, Kimberly Bender and her husband Paul of Moseley, VA, Kevin M. Brown and his wife Amy Vanderwal of NYC, NY and Kathleen Gerrish and her husband Matthew of Billerica; his stepchildren Elisha Chase of Colorado, and Jason Chase, and his wife, Darcy, of Bethel, ME; his siblings, Edward Brown and his wife Ellen of NH, Ellen Marini and her husband Frank of FL, Judy DeMambro and her husband Anthony of Ashby and Karen Cardinal of NH, his in-laws Don Morin of NH, Frances Zahn and her husband Richard of VA, Rebecca Roy of Leominster, and Eileen ("Teena") Hawkins of NY; his six grandchildren, Kaelyn, Alexandra, Abby, Logan, Mary and Eleanor; as well as his partner Diane Barry. He was the brother of the late Walter, Gerald and Robert Brown, and Francis "Al" Kurtz.
A Funeral Mass will be held Friday at St. Matthew the Evangelist Parish in St. Theresa Church, 466 Boston Rd., Billerica at 10 a.m. Relatives and friends respectfully invited. Burial in Fox Hill Cemetery, Billerica. Per current CDC and State Guidelines face coverings will be required at all venues and attendees must sign up to attend the Funeral Mass at
https://cli.re/ccb-funeral-signup
In lieu of flowers, memorial contributions may be made to the Billerica Friends of Music, PO Box 257, Billerica, MA 01821
Read More
Previous Events
Funeral Mass
St. Theresa Church
466 Boston Rd.
Billerica, MA 01821
Burial
Fox Hill Cemetery
130 Andover Rd.
Billerica, MA 01821