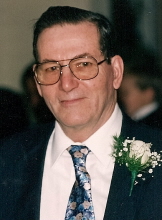 Obituary for Kenneth P. Mitchell Sr.
KENNETH P. MITCHELL SR. - Age 82, husband of Rita L. (Rais) Mitchell died Monday at the Lahey Clinic in Burlington.

He was born in Boston, December 3, 1927, the son of the late Harry and Abbie (Orlendesse) Mitchell and lived in Billerica for almost 40 years. He served in the Army for over 20 years and later worked for the Federal Aviation Administration. He later worked was as a Crossing Guard for the Town of Billerica.

He was a member of the Billerica Knights of Columbus having served as the Grand Night and the District Deputy and was a member of the Billerica Lodge of Elks.

Besides his wife, Mr. Mitchell is survived by his sons, Dr. Kenneth P. Mitchell Jr. of W. Roxbury, Michael Mitchell of Dorchester and John Mitchell of Rocky Hill, CT; his daughters, Rita Stewart of Austin, TX, Sandra Mitchell of Brookline and Linda Mitchell of Costa Mesa, CA. He is also survived by eight grandchildren and one great granddaughter.

MITCHELL - Of Billerica, Jan. 17, Kenneth P. Mitchell Sr. husband of Rita L. (Rais) Mitchell. Funeral Friday from the SWEENEY MEMORIAL FUNERAL HOME, 66 Concord Rd., Billerica at 8 a.m. A Funeral Mass will be held at St. Theresa Church at 9 a.m. Relatives and friends respectfully invited. Visiting hours will be held Thursday from 4-7 p.m. In lieu of flowers, memorial contributions may be made to the charity of one's choice. Burial in Fox Hill Cemetery, Billerica.