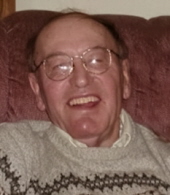 Obituary for Kenneth C. Crider
Kenneth C. Crider - husband of Linda A. (Lee) Crider died Tuesday at the Lowell General Hospital after a long courageous battle with cancer.

He was born in Elgin, Iowa the son of the late Dr. Ray Crider and Freida (Yenney) Crider. He was a graduate of Luther College, then drafted into the US Army and was stationed at Ft. Devens. Upon discharge, he stayed in MA where he met his wife Linda and moved to Billerica where he raised his two daughters.

Mr. Crider was employed as an Accountant for the Itek Company in Lexington and later worked for Digital Compaq before his retirement seven years ago.

Ken was an excellent athlete and avid sports fan. He played in several local softball leagues. He loved the Red Sox and rarely missed a game.

Over the last five years Ken faced many health challenges. He never showed fear or complained and always had a smile on his face. He taught us the true meaning of hope and was an excellent source of strength for his family. Ken was loved by all and will be greatly missed.
Besides his wife, Mr. Crider is survived by his daughters, Jennifer Ditscheit and her husband James of Palm Bay, FL and Caitlin Crider of Lowell; his granddaughter Gwenn Ditscheit; his brother, Keith Crider of Westford; his sisters, Margaret Keith of NV and Barbara McCully of MN; and several nieces and nephews.
CRIDER - of Billerica, Oct. 13, Kenneth C. Crider beloved husband of Linda A. (Lee) Crider. A funeral service will be held Saturday at the SWEENEY MEMORIAL FUNERAL HOME, 66 Concord Rd. , Billerica at 11 a.m. Relatives and friends respectfully invited. Visiting hours will be held Friday from 4-7 p.m. In lieu of flowers, memorial contributions may be made to The Foundation of the MEEI, Inc., 243 Charles St. , Boston , MA 02114 or at www.masseyeandear.org in memory of Kenneth Crider. Burial in Fox Hill Cemetery , Billerica.