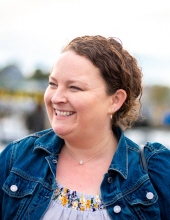 Obituary for Kathryn A. Griffin
On Wednesday, September 14th, Kathryn A. Griffin, of Norwalk, CT, passed away, surrounded by loved ones, at the age of forty-three. Kate earned her bachelor's degree in business from the University of Massachusetts and enjoyed a twenty-year career with prominent technology firms such as IBM and Cambridge-based PegaSystems. A passionate traveler, Kate visited over thirty countries across six continents, including a 12 month assignment for IBM in the United Arab Emirates. As a lover of animals, a trait she no doubt inherited from her beloved 'Nanny', Kate was a supporter of the MSPCA and local humane society; in addition to offering financial support, Kate opened her home to foster at-risk pets.
Daughter of George and Patricia Griffin, Kate was the oldest of five and is survived by her brother Michael and his husband George Nugent, brother Chris Griffin and his wife Jessica, sister Meghan Griffin, brother Daniel Griffin, and her beloved nephew Nathaniel Griffin.
To commemorate Kate's life and her passion for the arts, the family is holding a private Celebration of Life Memorial at a local museum. In lieu of flowers, the family asks that you donate to the American Liver Foundation, and to strongly consider becoming an organ donor. For more info on becoming a donor, please visit www.organdonor.gov.