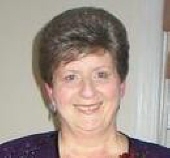 Obituary for Joyce Ann Gerossie
Joyce Ann (Cloran) Gerossie, 66, died June 18, 2010, at her sister's home surrounded by her loving family after a long, courageous battle with cancer.

A Leap Year baby born to "P.P." and Mary (Perry) Cloran in 1944, Joyce grew up with her eight siblings in Cambridge, MA. She married John "Jack" Gerossie in 1967 and moved to Billerica, MA, where they raised their four children.

A testament to her boundless generosity and loving nature, Joyce provided in-home childcare for dozens of children from 1981-2002. She loved camping with her husband, children, grandchildren, and campground friends, and always had a kind word to share with everyone. Her husband Jack preceded her in death on March 5, 2009.

Joyce is survived by her sons John Gerossie and his wife, Christina, of Chester, NH; William Gerossie and his wife, Stacey, of Chelmsford, MA; Robert Gerossie and his wife Susan, of Fremont, NH; and her daughter, Diane Feeley and her husband, James, of Hingham, MA, as well as her 11 beloved grandchildren: Nicole, Christopher, Brandon, Michael, Cameron, Matthew, Bobby, Samantha, Kathryn, James, and Sydney.

She is also survived by her mother, Mary "Mae" Cloran of Wilmington, MA, and her brothers and sisters, Carol Pellegrino of Londonderry, NH; Marie Keddy of Quincy, MA; Paul Cloran of Melrose, MA; Janice Butler of Londonderry, NH; John Cloran of Portland, ME; Frank Cloran of Kingston, MA; Bob Cloran of Cambridge, MA; and Kevin Cloran of Grafton, MA; her dear friend Caroline Smithers of Billerica, MA, and more than 30 nieces and nephews.

GEROSSIE - Of Chelmsford, formerly of Billerica. Funeral Wednesday from the SWEENEY MEMORIAL FUNERAL HOME, 66 Concord Rd., Billerica at 8 a.m. A Funeral Mass will be held in St. Theresa Church, Billerica at 9 a.m. Relative and friends respectfully invited. Visiting hours will be held Tuesday from 5 - 8 p.m. In lieu of flowers, donations may be made to Saints Memorial Cancer Center, 2 Hospital Drive, Lowell, MA 01852.