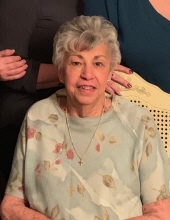 Obituary for Josephine M. "Josie" Aiello
Josephine M. "Josie" (Rizzo) Aiello, age 86, beloved wife of the late Salvatore J. "Sonny" Aiello, who died October 23, 2021. She died from a broken heart on Sunday November 21, 2021at their home with her family by her side.

She was born in Boston, May 15, 1935 a daughter of the late Angelo and Maria (Giordino) Rizzo and was a longtime Billerica resident who enjoyed spending time with her husband of 67 years at their lake cottage and their Florida home.

Known as the "Queen" she was the one who held the foundation of the family together. Mom loved the holidays, all of them but especially Christmas with keeping many family traditions going. Growing up hosting Christmas Eve was her favorite, as the family grew larger and larger, we still somehow managed to make the magic happen, generation after generation.

Josie also loved to cook, Saturday was pizza night, Sunday was gravy day, nighttime tea and cookies. In her spare time Mom enjoyed reading a good novel, watching horror movies and as a young teenager she loved to draw pictures and bask in the sun.

One of her most exciting times in life was spent cruising to Bermuda and the islands with our dad. Oh ...how they loved to cruise!! Mom had so many fancy gowns. Some of our vivid memories with mom are going on a family cruise to Bermuda to celebrate their 60th anniversary. The fisherman's feast with "Grandma Rizzo", a trip to Woolworth's in Boston, visits with her sisters, my brother taking them to church every week, and mom and dad sitting together on the swing!

Josie (MOM) a strong woman, a trooper, our rock, she battled cancer for 2 years. She would selfishly put herself first even on her weakest dark days and was the perfect role model for the whole family. She loved all of us unconditionally and would spend every waking moment just to see her grandchildren & great-grandchildren to give them hugs

We will not forget the season as you were leaving, that's just the way the story goes, you always smiled but in your eyes your sorrowed showed.

Lyric's: By Nilson "Without You"

Forever our MOM

She is survived by her children, Catherine Pappathan and her husband Phillip Lastoria of Plymouth, Mary Ann Turkette and her husband Robert of Billerica, Linda Boland and her husband Scott of Nashua, NH, Sherrill Ann Linnane and her husband Daniel Jr. of Peabody and Leonard Aiello and his wife Christine of Billerica; her siblings, Rosemary McDonough and Laura Lovasco both of Topsfield. She was also the loving grandmother of 11 and great-grandmother of 9. She was the sister of late Matthew Rizzo and Linda DiMarino.

Visiting hours will be held Monday at the Sweeney Memorial Funeral Home, 66 Concord Rd., Billerica from 4 - 7 p.m. Relatives and friends respectfully invited. Masks will be required. All other services will be held privately and at the convenience of her family.


Previous Events
Visitation
Sweeney Memorial Funeral Home
66 Concord Road
Billerica, MA 01821