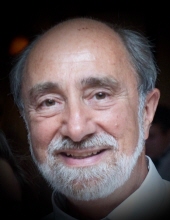 Obituary for Joseph J. Giusti
Joe Giusti, age 72, beloved husband of Mary (Fitzmaurice), died Saturday after a long and courageous battle with Alzheimer's and a brief battle with cancer, which ultimately was too much for his body to handle.

He was born on September 17, 1947, a son of the late Helen and Americo (Rico) Giusti. He grew-up in Somerville, where he met many of his lifelong friends that he continued laughing with right up to the end. Joe and Mary, his wife of 48 years, moved to Bedford, MA in 1975 where they raised their family.

Joe proudly served his country in the United States Army, fighting in the Vietnam War. For the last 25 years, he owned and operated the successful business, NorthEast Engravers Supply.

Joe's favorite thing to do was spend time with his family and friends. He loved sitting around the kitchen table, long after a meal was finished, just talking and laughing. His happy place was down the cape in Eastham, walking the beach with Mary or his grandkids, or enjoying a Budweiser on the back deck. Joe also loved any excuse to dance and looked forward to Jeopardy's final question at 7:53pm each night. The laughter that ensued when he got together with his childhood friend, Tommy Aylward, who was more like a brother, was infectious and could be heard for miles. Joe had a kind soul; he would stop to help a turtle cross the road, buy a cheeseburger for a homeless person, lend a hand to elderly neighbors, and enjoyed being a member of the Frank W. Thompson Masonic Lodge for many years.

He is survived by his loving wife, Mary Giusti of Billerica, and his children; Matthew and his wife Kelly of Bedford, Bethany Boglarski and her husband Kory of Bedford, and Catherine Lamb and her husband Sean of Duxbury. He leaves behind his siblings, Elaine Panetta and husband Maurizio of Ontario, Canada, Richard and his wife Karen of Eastham, MA, along with many cousins, nieces and nephews. He also leaves behind his grandchildren: Domenic, Dante, Oliver, Alexandra, Charlie, and McKenna, all of whom he loved dearly.

Due to the CoVid-19 pandemic, a private graveside service will be held at Shawsheen Cemetery in Bedford, MA. A celebration of his life will be held at a later date. In lieu of flowers, Joe would want you to spend time with your family, volunteer your time at the Bedford VA, or contribute to the Alzheimer's Association , to help find a cure for such a devastating disease.


Read More