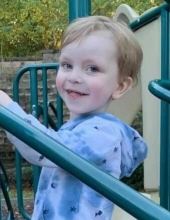 Obituary for Johnny McElwain
October 23rd, 2020, Johnny McElwain tragically succumbed to his Complex Congenital Heart Defects, after 3 open-heart surgeries and many other procedures.
Born in Brookline Massachusetts on September 30th, 2017, Johnny was the brightest light you'd ever gaze upon. Despite a long three years of traumatic medical experiences, surgeries and hospital stays, Johns smile was always so wide, ear to ear every-time he was with those who loved him. He was an admiring younger brother to proud big sister Kellie, 6, a real life superhero to his parents, John Jr, and Bridgett. He is also survived by a large family of aunts, uncles, cousins, and 3 sets of grandparents, and 3 sets of great grandparents.
Johns family will forever miss their beautiful boy, with the fighting spirit you'd surely expect out of a little Irish boy like himself. He is a warrior, a king, and greatly added to the lives of those around him. He was so incredibly loved and cherished.
A Funeral Mass will be held Wednesday at St. Matthew the Evangelist Parish in St. Theresa Church, 466 Boston Rd., Billerica at 10 a.m. Attendee's are required to sign up at
https://cli.re/ccb-funeral-signup
Per current State guidelines face coverings and social distancing will be required while in the church
Read More