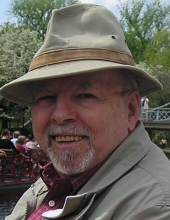 Obituary for John F. Browne
Billerica—John F. Browne—Age 82, beloved husband of the late Pauline M. Browne, died peacefully Saturday at Courville Nursing Home in Nashua, New Hampshire.

He was born in Boston, June 1, 1935, son of the late Henry and Catherine (Maguire) Browne and loving brother of the late Robert "Bob" Browne.
He was a resident of Billerica for over 50 years. He is survived by his children, Karen Jackson of Nashua, New Hampshire and Douglas Browne and his wife Michele of Groton, all of whom he loved dearly.

Jack was exceptionally creative and artistic, from his love of photography, to a surreal artwork piece tiled jazz band created entirely out of colored pebbles, to amazingly detailed handmade models for his railroad hobby, and lovingly handmade toys for his kids, Karen and Douglas, who will cherish those forever.

Jack was a proud Air Force veteran, having served in SAC, Strategic Air Command primarily the 55th reconnaissance group, originally flying B29's, then his beloved and beautiful RB47's and finally to the super-fast B58 Hustler. All during the hottest time of the Cold War including volunteering for Soviet over flights, in which a fellow squadron RB47 was shot down. During his time in the Air Force, Jack rapidly advanced from an enlisted man up to the rank of Captain, a remarkable accomplishment. He was lucky enough to experience all different corners of the world and lived to tell great adventures. He particularly like his time exploring the Middle East in the 1950's when they were stranded after a sand storm.

Before, during and after his time in the Air Force, photography was always Jack's truest passion. He was a talented scientific photographer, both privately and for his own company, Adex, of which he was extremely proud. Jack greatest pride though was of his photographic work for the U.S. government and NASA space programs. His photography work was so instrumental that he was even presented with a piece of the Apollo spacecraft when it returned to Earth.


BROWNE—Of Billerica, March 24, John F. Browne, per request of the family, funeral services will be held privately. Funeral Director Dean M. Laurendeau.
Read More