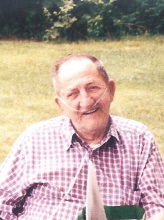 Obituary for John C. Stephens
John C. Stephens - Age 86, husband of the late Mary M. (Hampton) Stephens died Wednesday at his home.

He was born in Orange, NJ, June 1, 1924, the son of the late John C. Stephens Sr. and Clara (Cowley) Stephens and has lived in Billerica for 42 years. He served in the Marines during WW II.

Mr. Stephens was employed as a Safety Supervisor for the U.S. Postal Service having retired in 1985 after 27 years. He was a member of the D.A.V. Chapter 47, the American Legion, the VFW Solomon Post and the Guadalcanal Campaign Veterans. The family would like to give a special thanks to Hospice.

Mr. Stephens is survived by his daughters, Judie Stephens and Laura Thorne and her husband Kenneth of Billerica and Lillian Marchant of Nashua; his adopted daughter, Amanda Stephens of Tewksbury and is also survived by 12 grandchildren, 21 great grandchildren and 2 great great grandchildren. Mr. Stephens was the father of the late June Marie Shiltz, stepfather of Suzanne Stephens, and father-in-law of the late George Marchant.

STEPHENS - Of Billerica, Jan. 5, John C. Stephens. A funeral service will be held Saturday at the SWEENEY MEMORIAL FUNERAL HOME, 66 Concord Rd., Billerica at 10 a.m. Relatives and friends respectfully invited. Visiting hours will be held Friday from 3-7 p.m. In lieu of flowers, memorial contributions may be made to the Merrimack Valley Hospice, 360 Merrimack St., Bld. 9, Lawrence, MA 01843. Burial in Fox Hill Cemetery, Billerica.