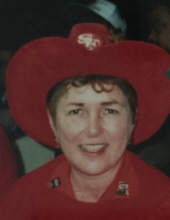 Obituary for Joanne M. Aigeltinger
AIGELTINGER, JOANNE (nee TUOMI), 81, died 7/20/2020 in Billerica, Massachusetts.

Joanne was born in Hibbing, Minnesota, the daughter of Fannie and Nick Tuomi, and the youngest of her siblings Willard, Irene, June and Howard.

Joanne lived in the San Francisco Bay Area for over 55 years. She was an avid sports fan, attending 5 of the SF 49ers Super Bowls, and hundreds of Oakland A's baseball games. She was the head scorekeeper for the San Ramon Valley Little League, running training sessions and compiling the league's game day stats for years.

She worked as an executive secretary, and took great pride in her typing skills, perfect grammar and spelling (in the pre electronic and spellcheck era!). She honed her skills with her crossword puzzle hobby that she enjoyed for decades.

Joanne is survived by her daughter Deborah Cona, son Rick Aigeltinger (Kelly), grandchildren Elise, Travis, Jon, Bridget and Tyler, and her great grandson James. She joins her husband, Jim, son Jimmy, and many other family and friends on the other side.