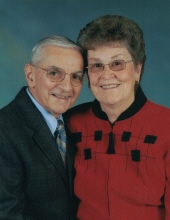 Obituary for Joan L. Bouthillette
Joan L. (Grenier) Bouthillette, age 82, beloved wife of Lionel Bouthillette, passed away on July 2 after a brief illness with her loving family by her side. Joan was born in Saco, Maine, twin daughter of Phyllis and Jeremy Grenier. Joan lived in Maine until she moved with her husband to Woburn and then Billerica, where she made her home for the last 60 years.
Joan had many talents including quilting, sewing, and gardening. She loved spending Thursday mornings with her quilting group where she made many special friends and created beautiful handmade quilts and sewn gifts for her family and friends. Joan's other passion was gardening, she cultivated a love of flowers and gardening in her children. Her yard is a showcase that has been enjoyed by her family and friends for years. Joan's greatest pride and joy in her life was her family. She dedicated her life to raising her children in a loving home. She enjoyed visits with her children and precious grandchildren, and she loved nothing more than spending the holidays with her family. She would dress up on Christmas Eve and sing Christmas songs while handing out gifts. Joan created many treasured memories for her family and all who knew her. She always had an easy smile, a kind word, and a love for life.
Joan is survived by her devoted husband, Lionel Bouthillette and their loving children, Linda Bouthillette of Tyngsboro, Keith and his wife Patricia of Billerica, Steven and his wife Virginia of Hudson, NH, and Brian and his wife Suzanne and their sons, Joan's cherished grandsons, Brendan and Patrick of Billerica. In addition to her immediate family, Joan is survived by her sister-in-law, Florence Lester and many nieces and nephews. Joan was predeceased by her parents, her twin brother, Jeremy Grenier, and her in-laws, Lucienne and Lionel Bouthillette.
The family wishes to thank the oncology staff, especially Dr. Thatai, and the nursing staff at the Lahey Clinic in Burlington for their compassionate care.
A private graveside service will be held at the convenience of the family. As an expression of sympathy, memorial contributions may be made to The American Cancer Society.
Read More
Events