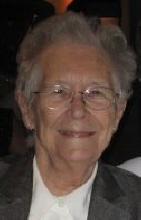 Obituary for Joan Chisholm
Joan (Batchelor) Chisholm, age 87, wife of the late Dr. Joseph H. Chisholm died peacefully Tuesday at the home of her daughter in Pelham, NH.
She was born in Peterborough, England, January 11, 1922, daughter of the late Walter and Florence (Harper) Batchelor and was a longtime Billerica resident prior to moving to Pelham.
Mrs. Chisholm was a pediatric RN at Winchester Hospital for many years retiring at the age of 65 and was a writer for the Billerica News, active with the Boy Scouts and Girls Scouts and was an avid gardener.
She is survived by seven sons, Christopher Chisholm and his wife Dianne of CT, Colin Chisholm and his wife Donna of Billerica, Peter Chisholm and his wife Tammy of Pepperell, Jonathan Chisholm and his partner Kevin Gath of Lowell, Paul Chisholm and his wife Janet Rice of Westford, Matthew Chisholm and his wife Deborah of Nashua and Rodney Chisholm and his wife Mi Young of NY; three daughters, Jane Beane and her husband Emmett of Pelham, Christine Chisholm and her husband Jeffrey Hannaford of Tyngsboro and Veronica Pallas and her husband Kevin of Milton, VT; one sister Audrey McKanon-Jones of England. Also survived by 23 grandchildren and 8 great-grandchildren.
CHISHOLM - Of Pelham, formerly of Billerica, May 26, Joan (Batchelor) Chisholm wife of the late Dr. Joseph H. Chisholm. A Funeral Mass will be held Friday at St. Patrick Church, 12 Main St., Pelham, NH at 2:30 p.m. Relatives and friends respectfully invited. Visiting hours will be held at the SWEENEY MEMORIAL FUNERAL HOME, 66 Concord Rd. Billerica Thursday from 4 - 8 p.m. Memorial contributions may be made to the Make-A-Wish Foundation, One Bullfich Place, 2nd Floor, Boston, MA 02114 Funeral Directors W. J. and Dean M. Laurendeau.