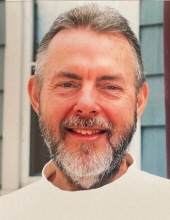 Obituary for Jim Doyle
Our friend, husband, brother, uncle, father, and teacher Jim Doyle set out for his next adventure on Thursday, January 12, 2023, in the early morning, his favorite time of day. Jim's life is best understood in three parts, which is fitting as it was his favorite number.
Part 1: In 1939, two important things were born: AA's The Big Book and Jim Doyle.
Jim's life began on a Sunday in May, Mother's Day actually, in Granite City, Illinois. Born into a hard working steel mill community, he was well known for the boundless energy and high spirit that often got him in trouble. He tried many things in Granite City, he spent several years at St. Henry's seminary only to realize the priesthood didn't come with girls and maybe it wasn't for him. He took a spin working at Granite City Steel but it only took one summer down in the plumes shoveling grease to know that wasn't his calling either. But his years there left him with a strong work ethic and deep spirituality that he would draw from for the rest of his life. Curious as to what the world held for him and keen to find his place in it, he joined up with the Navy and imagined himself sailing the seven seas. This was not to be, however, as he often joked he spent four years in the Navy and never set foot on a ship. This would begin Part 2 of his wonderful journey.
Part 2: His time in the Navy took him from Washington State to Honolulu, Hawaii, where he met his first wife, Cheryl. Upon discharge the two of them moved to California where they had their first daughter and began constructing a life together. Poor as church mice, Jim talked about having one quarter that he and Cheryl would pass back and forth to whichever one was heading out of the house in case they needed to make a phone call. Still, Jim was the curious type and continued to search for his niche. He worked at Lockheed for several years, was accepted to Law School at age 30, and took a spin assisting in the California legislature. By 1975 he had a second daughter and had transitioned to working for technology companies, launching the vast international travel portion of his life. Japan, Sweden, Finland, England and Russia were all explored before moving his whole family to Mexico City for three years where he never met a pepper hot enough or a beer cold enough. After more traveling to Hong Kong and China, and a move back to the United States, the late 80s eventually found Jim, Cheryl, and their two daughters back in Massachusetts. But the biggest transformation was yet to come, because in August of 1990 Jim found Alcoholics Anonymous and began Part 3 of his journey, this one rooted in sobriety and personal growth.
Part 3: The birth of his grandson Ryan kicked off a chapter marked with new beginnings for Jim and he was proud and excited for what he saw as his chance to be a better, more present member of the family. Continuing to delve into the world of sober living, this period of his life was oftentimes clumsy and not always pretty as he learned how to express himself, worked hard to understand the 12 steps and how to use them as a tool to connect more deeply with his daughters, and more importantly, become a friend to himself. In 1992 Jim was unexpectedly laid off from his corporate job, but his newly sober mind saw the opportunity that lay within. Though he'd graduated from law school he'd never passed the BAR exam, and so twenty-five years after cracking a law book, and at the age of 53, he studied and re-took the bar exam, passed, and hung up his shingle - launching a second entirely new career. Around this time Jim met Peggy, the wonderful woman who would share the next thirty years with him.
In 2003 Jim left his life in Massachusetts quite unexpectedly to move to Texas and help raise his grandson. His daughter needed him. In Texas, between school drop offs and pickups, he dug into the program with even more vigor and made many lifelong friends in the AA halls there. As Jim's knowing of himself continued to deepen he began to allow himself to imagine what he might like his life to look like, how he might craft it. After having spent seven years in Texas helping his daughter and grandson he went back to Massachusetts to be with Peg. In 2010 he finally made an honest woman out of Peggy Ann, who had been with him since 1995 and stood right by him during all the Texas years.
In the third phase of his life Jim found neighbors and friends that loved him and delighted in him, and he created a life that fit him beautifully. After years of diligent work in AA and the personal growth it brought him, Jim was able to establish honest and loving relationships with all of his children, grandchildren, and friends, and connect more authentically with Peg's two children Martin and Eden who he'd watched grow up and loved tremendously.
Jim was a giver. He set out every day to do something, anything, for someone else - most often a neighbor - but people wouldn't realize who'd shoveled their driveway or chopped and stacked their fallen tree until long after it was done, and he was happy it that way.
Jim was a teacher. He learned humbly from many great leaders and used those lessons to transform himself and, by extension, everyone around him.
Jim was honest. His honesty with himself fueled him through years of personal transformation, and his honesty gave everyone around him permission to be honest too. Jim Doyle lived a beautiful life, an exciting life, and a life full of adventure and growth and lots of love.
Jim's life is a reminder that no matter how lost we might feel, how far removed from our true self, there is something so very good within all of us if we can find the courage and discipline to stand inside our own truth. By the time Jim passed away, he was so full of happiness and love of life he would marvel at his own joy, amazed. He gave that to himself, and he gave himself to the rest of us.
Joseph Campbell said "the privilege of a lifetime is being who you are", but perhaps the real privilege of a lifetime is discovering who you really are when you thought you already knew. The chapters of Jim's life have long been an inspiration those close to him, and he would hope that you, too, are inspired to look inside yourself with loving kindness and see what's there and that in the end we all marvel at the joy we feel in our lives every day. And so, in Jim's memory, please remember that in a world where you can be anything….choose to be kind.
Jim is survived by his deeply loving partner of thirty years, Peg, his two daughters Jennifer and Christine and his step-children Eden and Martin - all of whom he loved very much. Jim also leaves behind an older sister, Colleen, and a younger brother, Patrick, as well as many nieces and nephews all of whom were woven beautifully into the fabric of his life. His grandchildren, Ryan, Kennedy, and Carig, all delighted in him and will miss him tremendously, as well as his first wife, Cheryl, with whom he maintained an almost sixty year friendship.
Read More