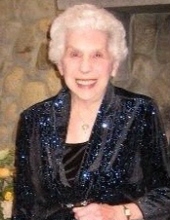 Obituary for J. Katherine Leone
J. Katherine (Poleo) Leone, age 97, a longtime resident of Tewksbury, passed away peacefully on Monday, March 30, 2020 at Sawtelle Family Hospice Home in Reading surrounded by her loving family after a brief illness. She was the wife of the late Michael A. Leone who passed away in 2011.

She was born in S. Boston on April 9, 1922, the daughter of the late Vincent and Constance (Albani) Poleo. She attended Katharine Gibbs College where she received her Associate Degree. Katherine was devoted to her Catholic faith and a communicant of St. William Parish in Tewksbury.

She was a devoted homemaker and caregiver to her husband, children and grandchildren. Family meant everything to Katherine and she loved to host for the holidays, especially Thanksgiving. She was known for her sauce, meatballs, fried dough and rice krispie treats. She also loved to crochet afghans and donated them to local churches for young mothers. She enjoyed playing cribbage with her family and was the champion of the Thanksgiving cribbage tournament twice and is the reigning champion.

She is survived by her four sons and daughters-in-law, Michael and Mary Leone of Plymouth, Joseph and Elaine Leone of Ayer, Robert and Gisele Leone of Townsend and David and Allyson Leone of Lee's Summit, MO; twelve grandchildren, Jeffrey Leone and his wife Christine, Dan Leone and his wife Melissa, Joanna Kelly and her husband Adam, Jason Leone and his wife Paige, Cara Weisbach and her husband Cody, Nicole Laviolette and her husband Mark, Renee Scates and her husband Andy, Danielle Sheehan and her husband Adam, Matthew Leone and his wife Alyssa, Nick Leone and his wife Susan, Eric Leone and Brianna Smith and her husband Scott and her twenty five great-grandchildren.

Funeral services for Katherine will be held privately and a celebration of life will take place at a later date.