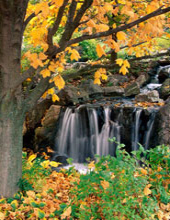 Obituary for Ivy Lillian DePasquale
Ivy Lillian (Markwell) DePasquale, 90, of Billerica, MA passed away on
11/9/2015 in Nashua, New Hampshire.
Ivy was born on February 20, 1925 in Braintree, Essex, England. She attended
school in England graduating from high school at the age of 13 years, 9 months. After
completing her high school years, Ivy went to work in a factory packing parachutes for
the British soldiers during WWII.
Ivy was the widow of the late Joseph DePasquale of Billerica, MA who passed
away in February of 1979. They shared four children and many wonderful years
together.
Ivy met Joe at a dance while he was stationed in England training for the D-Day
Invasion. Joe saw Ivy from across a crowded room and told his fellow American Soldier
"I am going to marry that girl." Joe fell in love as soon as he saw Ivy, a beautiful young
woman of 19 and he a handsome young American Soldier of 23. It wasn't easy for Joe
to win Ivy over as she was a shy, reserved, quiet, young lady and Joe was a funny,
open, honest American Soldier who was sure of his love at first sight. First things first,
Ivy had to teach this handsome American Soldier to dance. She did just that and they
spent many a Saturday evening riding their bicycles meeting at the dance and enjoying
what little time they had together during WWII. American Soldiers were quite different
from the laid back British gentlemen but Joe won Ivy over with his charm and gifts of
Chocolate and his playful spirit with Ivy's mum. After a yearlong courtship Joe and Ivy
married in England.
Eventually, Joe was shipped back to the States without being allowed to bring his
beautiful new bride. Ivy stayed in England due to restrictions until all the paperwork was
completely in order to allow her to go to the States to be with her new husband.
During their time apart, letters were not the only way they communicated.
Joe was a fantastically talented artist and to express his love and how much he
missed Ivy he would draw a caricature of how he envisioned their life together. If she
bought a new dress, she would describe it to him in a letter and he would draw a picture
of her in the dress as she described it. Ivy still has these wonderful drawings in a
beautiful book for her family to enjoy.
Months later, Joe finally had all the necessary paperwork in order to bring his
bride to her new home in her new country. Ivy's journey to America was long and
hard. Her journey was by way of a cattle boat. The journey took 3 days. Ivy
and the other "war brides" (as they were called back then) endured some horrible
conditions on that long and lonely journey. But Ivy knew even then that Joe was the
love of her life. When Ivy arrived, they re-married in Brighton, MA and remained
married and deeply in love until Joe's death.
Joe and Ivy made their home in Billerica, MA and raised their four children there and
made every week-end a family affair with relatives and friends spending every Sunday
playing volleyball, horseshoes and swimming in the pool. Enjoying wonderful food
and friends was the way they spent their lives. They remained married and deeply in
love until Joe's death.
Ivy's family was her entire world. She devoted her life to her family and was
delighted at every wedding and birth adding to her family. Ivy never re-married as she
always said, "No one could ever compare to Joe." He truly was the love of her life.
Ivy will be deeply missed and is survived by her son Joseph DePaquale, Jr. and
his wife Stephanie of Prospect Harbor, Maine. Three daughters, Jolean Johnson and
her husband Lester of Merrimack, NH, Marie O'Connor and her husband Tim of
Nashua, NH and Donna O'Connor widow of David O'Connor also of Nashua, NH.
Ivy also leaves behind 8 grandchildren, 21 great grandchildren and 4
great-great grandchildren.

DEPASQUALE – Of Billerica, formerly of Brighton and England, Nov 9. Ivy (Markwell) DePasquale. Funeral Friday from the SWEENEY MEMORIAL FUNERAL HOME, 66 concord Rd., Billerica at 10:00 a.m. A Graveside Service will be held at the Fox Hill Cemetery, Billerica at 11:00 a.m. Relatives and friends respectfully invited. Visiting hours will be held Thursday from 4 – 7 p.m.


Previous Events
Visitation
Sweeney Memorial Funeral Home
66 Concord Road
Billerica, MA 01821
Graveside
Fox Hill Cemetery
130 Andover Rd.
Billerica, MA 01821