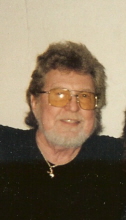 Obituary for Gerald W. Bock
Gerald W. Bock - Age 76, Gerald "Ged" W. Bock husband of Audrey D. (Simens) Bock died Tuesday at the Southern New Hampshire Medical Center in Nashua.

He was born in Waltham, October 8, 1933, the son of the late Walter and Gladys (Mason) Bock and stepson of the late Tony Siano and lived in Billerica for 45 years before moving to Hudson, NH nine years ago. He served in the Army during the Korean War. Mr. Bock was a Sheet Metal Worker prior to his retirement.

Besides his wife, Mr. Bock is survived by his sons, Phillip Bock and Robert Bowes of Hudson, NH, Kenneth Bock and his wife Esther of Londonderry, NH and Glenn Bock and his wife Donna of Lowell; his daughters, Yvonne Toomey and her husband Walter of Lowell, Tammie Golden and her husband Michael and Bonnie Birchall and her husband Michael of Hudson, NH and Sherrie Peterson and her husband Ed of Plaistow, NH; his brother, Robert Bock of Myrtle Beach, SC; his sister, Lois Vallely of Dennis Port; son-in-law of Reidar "Pa" Simens of Hudson, NH and is also survived by 24 grandchildren.

BOCK - Of Hudson, NH, formerly of Billerica, June 22, Gerald W. Bock. Visiting hours will be held Saturday at the SWEENEY MEMORIAL FUNERAL HOME, 66 Concord Rd., Billerica from 2-5 p.m. with a service to be held at 5 p.m. Relatives and friends respectfully invited. In lieu of flowers, memorial contributions may be made to the Make A Wish Foundation, One Bullfinch Place, Boston, MA 02114.