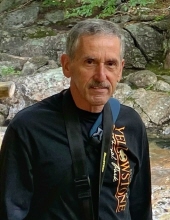 Obituary for Frederick G. Wiggins
Frederick Wiggins died suddenly at home on November 1. Beloved husband, father, brother, friend, 41-year veteran of the Billerica Fire Department, avid rock climber, devoted friend, able home handyman and mechanic for his own family and anyone else who ever needed a hand, best dishwasher-loader on earth, news junkie, ever-willing debater, talented photographer...Fred will be sorely missed.

Fred was born November 23, 1952, in Somerville, MA, to Gilbert and Vera Wiggins. He grew up in Billerica under the watchful eye of his two older sisters, Cindy and Barbara, who remember him starting his climbing career by repeatedly escaping from his playpen. Their father died when Fred was just 12 years old and, as his sisters put it, he quickly stepped up, learning to fix anything in the house, maintain the family car, manage the finances, and generally become the mainstay his mother would lean on for the rest of her life. Fred's penchant for helping and fixing never ended, as relatives and friends far and wide can attest.

After graduating from Billerica Memorial High School (Class of 1970), Fred attended Northeastern University (Class of 1975), earning his degree in criminal justice. After college, he worked in security for a short time before joining the Billerica Fire Department. He took pride in the work and was highly respected, ultimately rising to the rank of Captain.

Rock climbing in earnest began in college and led Fred to volunteer for many years as an instructor in the Appalachian Mountain Club's "Beginner Program," a source of many lifelong cherished friendships -- including one with a novice named Andrea (Andy) Colby, who joined the Beginners Program in 1986. Long story short, Andy and Fred were married in 1992, and their two children, Tom and Katie, came along in 1996 and 2000, respectively. No father has ever loved his children more. Vacations with the family included memorable trips to Iceland, Scotland, and the American Southwest, but Fred was just as happy, if not more so, on the family's annual camping trip to Acadia.

Retirement suited Fred, giving him more time for rock climbing, gatherings with extended family, and ambitious home improvement projects. His passing came as a total shock, and is a reminder to "carpe diem." In lieu of flowers, donations can be made to the National Park Service (nps.gov), or consider honoring Fred's life by doing the right and responsible thing in a tough situation, helping out a friend with a project, pursuing an outdoor adventure, engaging in a passionate debate, and/or loading the dishwasher properly.

A Visitation will be held Saturday at the Sweeney Memorial Funeral Home, 66 Concord Rd., Billerica from 1-4 p.m. Relatives and friends respectfully invited.


Previous Events
Visitation
Sweeney Memorial Funeral Home
66 Concord Road
Billerica, MA 01821