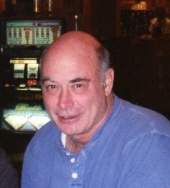 Obituary for Frederic R. Brown
Frederic "Dick" R. Brown - Age 66, died Wednesday, Feb. 2, at Saints Medical Center after a brief illness.

He was born in Lowell, April 7, 1944, the son of the late Frederic H. and Louise C. (Frank) Brown and was a life long resident of Billerica. Mr. Brown was employed as a Maintenance Superintendent at Marina Point in Quincy for the past 13 years. He was a member of the Billerica Lodge of Elks and a former member of the Billerica Planning Board, Finance Committee and Town Meeting Member.

Mr. Brown in survived by his daughter, Tammy McCoy and her husband Ryan of Lowell; his longtime companion, Ely Petito of Billerica and her daughter, Adrienne O'Brien and her husband Timothy of Stoneham; his brothers, David Brown and his wife Chrissy and Steven Brown and his wife Marcia of Billerica; his sisters, Ellen Bordieri and her husband John of Falmouth and Linda Gray and her husband Brian of Billerica; brother-in-law of Patricia Brown of Rockport. He was the brother of the late Philip Brown.

BROWN - Of Billerica, Feb. 2, Frederic "Dick" R. Brown. A celebration of his life will be held Saturday Feb. 12, at the Billerica Lodge of Elks, Webb Brooke Road, Billerica from 12-4 p.m. Relatives and friends respectfully invited. In lieu of flowers, memorial contributions may be made to the American Diabetes Association, P.O. Box 11454, Alexandria, VA 22312.