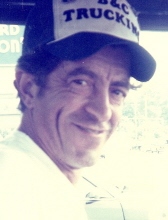 Obituary for Emmett L. Beane Jr.
PELHAM - Emmett L. Beane Jr., age 66 beloved husband and best friend of Jane (Chisholm) Beane died Sunday at their home.

He was born in Lowell, June 30, 1944 a son of the late Emmett Sr. and Charlotte (Sousa) Beane and was a Billerica resident before moving to Pelham, NH 23 years ago where he was an active member of St. Patrick's Church.

Mr. Beane served in the US Air Force during the Vietnam War and was a custodian at the Billerica Memorial High School where he also drove the Zamboni at the Hallenborg Arena. Most recently he worked in the maintenance department for Bristol - Myers Squibb in Billerica.

Besides his wife he is survived by one brother, Edwin Beane and his wife Barbara of Maryland; one sister Charlotte Ceglanski of FL; as well as his many loved nieces, nephews and friends.

BEANE - Of Pelham, NH formerly of Billerica, Nov. 14, Emmett L. Beane Jr. A Funeral Mass will be held Friday in St. Patrick's Church, 12 Main St. Pelham, NH at 10 a.m. Relatives and friends respectfully invited. Visiting hours will be held in the SWEENEY MEMORIAL FUNERAL HOME, 66 Concord Rd., Billerica Wednesday from 7 - 9 p.m. and Thursday from 4 - 7 p.m. In lieu of flowers memorial contributions may be made to the Pelham Senior Center, 8 Nashua Rd., Pelham, NH 03076 or to St. Patrick's Church, 12 Main St. Pelham, NH 03076 Burial in Gibson Cemetery, Pelham.