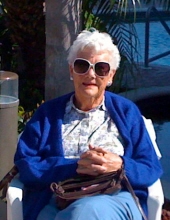 Obituary for Edna M. Holloway-Pickowicz
NORTH ANDOVER - Edna M. (Sullivan) Holloway-Pickowicz, age 91, died Monday at Edgewood Retirement Home in N. Andover.

She was born in West Roxbury, Dec. 15, 1924 a daughter of the late Thomas and Elsie (Whitten) Sullivan and lived in Billerica, Rackliff Island, ME, Naples, FL and most recently N. Andover.
Ms. Holloway was Supervisory Coordinator for Community Teamwork Inc. in Lowell and was Director of the Shaughnessy Terrace and Acre Neighborhood Low Income and Health Centers. She provided key leadership of the Community Teamwork Lead Poison Prevention Program. Her CTI activities included supervising the Well Child, Pap Smear Test and Birth Control Clinics, Project Head Start, Upward Bound and Job Core. Ms. Holloway was a liaison with the Greater Lowell Consumer Center, MITRE Corporation Summer Day Camp, Lowell Mental Health and Lowell Boy and Girl Scout troops. She managed the Billerica, Tewksbury and Tyngsboro Surplus Food Centers and was a member of the Billerica's Community and Drug Action Committees. She was a trustee of Merrimack Valley Health Planning Agency. Ms. Holloway was a guardian ad litem in Maine.

She is survived by two sons, Peter Holloway of N. Hampton, NH and Jack Holloway of Atherton, CA; six grandchildren, Diane, Patrick, Aimee, Joyce, Nathaniel and Michael; three great-grandchildren, Ben, Charlie and Grace. She was the mother of the late Susan Holloway-Sheerin, sister of the late Donald Sullivan and husband of the late Michael Pickowicz.

HOLLOWAY – Of N. Andover, formerly of Billerica, Rackliff Island, ME, Naples, FL and Stoneham Aug 22. Edna M. (Sullivan) Holloway-Pickowicz. It being her wish all services were held privately and at the convenience of her family. In lieu of flowers, donations may be made to the Susan Holloway-Sheerin Memorial Scholarship Fund at the Billerica Memorial Library, 15 Concord Rd., Billerica, MA 01821.