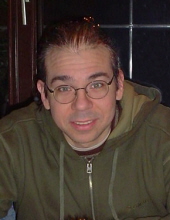 Obituary for Dr. George H. Silva
Beloved Son, Husband, Brother, Uncle and Friend

BILLERICA – Dr. George H. Silva, age 45, died Sunday at his home surrounded by his family after a lengthy illness.

He was born in Boston, May 8th 1970, a son of the late Jorge E. Silva and Ester (Sal) Boulanger and a stepson of her husband Robert, of Billerica. George lived in Albany, NY, Germany, and Paris before returning to Billerica.

Dr. Silva was a graduate of Billerica Memorial High School class of 1988, received his Bachelor's Degree at UMass Lowell, attained his PhD from SUNY, Albany and was a world renowned scientist, published and frequently quoted, and many years ahead of his time. George's curriculum vitae spans more than 20 years and continues to grow as his colleagues publish new ideas based on their collaborative work with him. He has more than 17 peer-reviewed publications with more than half of those in the highest profile journals, including the Journal of Molecular biology, Nucleic Acids Research and Nature Biotechnology.

As a graduate student, he received the National Science Foundation Graduate Research Fellowship that is awarded to less than 1 percent of applicants. Many recipients of this prestigious award have gone on to become Nobel Laureates and National Academy of Science members. His main research interests focused on proteins that modified DNA where he determined the structure of Endonucleases to elucidate the function of proteins at the atomic level.

His most recent work evolved into theoretical concepts in precision editing of DNA. He was at the forefront of a research field that is currently transforming virtually all aspects of molecular biology, culminating in a study lead by him that created a new class of DNA editing enzymes and was presented in a Nature Communications paper, a journal currently ranked 3rd among all journals, based on citation indices. Such enzymes have been used to generate genetically modified T cells, making them more powerful to kill the most aggressive forms of cancers (specifically hematological ones) and it's providing tremendous clinical results.

His legacy was not limited to the scientific community but also to the number of lives and hearts he touched and inspired. George was a giving, loving, and sharing soul with everyone he crossed paths. The world is darker without his light.

Besides his mother and stepfather he is survived and will be forever missed by his one brother, Gustavo Silva and his wife Gayellen of Dracut; one sister, Aimee (Boulanger) Gordon and her husband Sean of Burlington; his nephews, Evan, Ben and Jake Silva; his wife Silke Silva of Munich and his very dear friend Ouassila Habi of Paris. Also survived by many loving friends and colleagues.

SILVA – Of Billerica, formerly of Paris, Germany and Albany, NY, Dr. George H. Silva. A Celebration of Life Mass will be held Saturday, Nov. 21 at St. Malachy's Church, 99 Bedford St., Burlington, MA at 10:00 a.m. Relatives and friends respectfully invited. It being his wish there will be no calling hours. In lieu of flowers, we are requesting a donation be made in Memory of our beloved son, Dr. George H. Silva to the Energy 4 A Cure Foundation. All donations will go to fund research and educating the public about this disease, AD-RVCL. Donate at www.rvclresearch.org or send a check to Energy 4 A Cure Foundation, ATTN: Sharon or Steve Bevers, 5000 Eldorado Parkway, Suite 150, #403, Frisco, TX 75033. Payable to: Energy 4 A Cure Foundation.


Previous Events
Funeral Mass
St. Malachy Church
99 Bedford St.
Burlington, MA