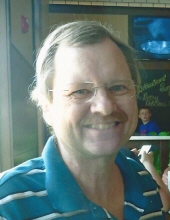 Obituary for Douglas A. Sprenger
Douglas A. Sprenger 59, died peacefully at Lowell General Hospital , October 1st 2015.
In his final moments he was surrounded by people who adored and loved him.
Douglas was diagnosed with Stage 4 Esophageal Cancer in 2010, but gave the beast a run for its money Douglas was tough as nails. Throughout his battle with Esophageal Cancer he never had a bad attitude he found positive in the negative and always looked for ways to challenge himself and uplift others he never let the diagnosis or any treatments or side effects slow him down continuing to do the things he loved to do and although his illness and all that went with it presented challenges he faced them with courage. His body gave out before his Spirit.
Douglas was born on July 23rd 1956 in Boston Ma. He grew up in Needham . He attended Rivers Country Day School Weston Ma graduating in 1975. A Highlight of his Rivers life was being the High Scorer on an excellent Varsity Basketball Team. His Coaches gave him the nickname Spaghetti Joe. He attended Connecticut College with a degree in Anthropology. He and friend Jim Garvey started the Young Democrats while attending there. Douglas also attended Bentley College receiving his Masters Degree in Business Administration. Douglas worked for Raytheon 37 years in a variety of capacities from Security Guard to Financial Director.
He influenced and made a difference in many people's lives reaching out to others with cancer. He for many years walked and raised money for Teamwalk for Cancer.
Douglas enjoyed traveling some of his fav places were Moab UT, Grand Canyon and Acadia National Park . He loved Photography and being a Foodie making sure to visit unusual or local favs to eat when traveling.
Douglas was an excellent Cook and also loved to grill the family called him the King of Meat and Sides.
He was a proud and spirited fan of UMass Lowell Riverhawks Hockey, the Boston Celtics, the Patriots and was known to watch the Greenbay Packers with his sons Joe and Josh .
He was an Animal Lover and saved from a high kill shelter our newest addition to the family our dog Dooley who is also missing him terribly and loved him so.
Douglas had a wicked awesome sense of humor although a bit dry and that's no (yarder yarder an inside joke) and loved to make people laugh . He loved music especially Jazz and Oldies. He loved to play Golf especially the Deutsches Altenheim Tournament that he played with his dad and cousins Steven and Philip every year. He enjoyed antiquing and going to auctions and loved the trip he made to Leclair Iowa with his brother in law Jeff and his Father in law Jerry to see American Pickers. He was a huge fan of Seinfeld. He enjoyed watching Sports, Phantom Gourmet, The Food Network and Mountain Monsters even getting a call from Trapper when he was in the hospital. He was a wonderful person the nicest guy you would ever want to meet always had a smile was strong courageous and such an inspiration to all that knew him. He was a wonderful Husband Father and Son Douglas's biggest joy was his daughter Nicole. He is survived by his Proud Father Robert Sprenger and his Beloved Mother Betty, his Brothers Richard and David . He will be forever cherished and missed by his wife Tracey, his sons, Joe, Josh, and Will his wife Vanessa and 5 granddaughters . Additionally he is survived by his numerous Cousins Nieces and Nephews and his In law Families Jerry and Carol Runge, Todd and Anna Runge, Trisha and Jeff Alleman. A Funeral Service will be held Monday at the Sweeney Memorial Funeral Home, 66 Concord Rd. , Billerica at 11 a.m. Visiting hours will be held Sunday from 1-4 p.m. In lieu of flowers, donations would be appreciated in his honor to some of his favorite charities, Lowell General Hospital Team Walk for Cancer Care Douglas's Team was Strides of Hope Http//www.teamwalk.org, Wounded Warrior Project
P.O. Box 758517 Topeka Kansas 66675, Esophageal Cancer Awareness Association ECAA P.O. Box 55071 #15530 Boston Ma 02205-5071, Best Friends Animal Society
2005 South 1100 E Salt Lake City UT 84106 utahpets@bestfriends.org, Burial in Fox Hill Cemetery , Billerica .


Previous Events
Visitation
Sweeney Memorial Funeral Home
66 Concord Road
Billerica, MA 01821
Service
Sweeney Memorial Funeral Home
66 Concord Road
Billerica, MA 01821
Burial
Fox Hill Cemetery
130 Andover Rd.
Billerica, MA 01821