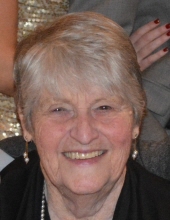 Obituary for Doris J. Maher
Doris J. (Crooks) Maher, 85, of Billerica, MA passed away peacefully on January 31, 2021 after a long and courageous battle with cancer. Doris, affectionately called Dot or Doddy by all who loved her, was the beloved wife and best friend of Edmund H. Maher, her loving and devoted husband of 38 years.
Doddy was a true humanitarian who openheartedly provided love and care to others. She taught acceptance, tolerance, and gave respect to all, not just in words, but by a lifetime of her own deeds. Doddy welcomed everyone and especially those in need of a sympathetic ear, a meal, or a place to stay. From family to strangers who became friends, Doddy made everyone feel comfortable, loved, and welcome in her home. She delighted in cooking for others and there was always room for one more at Doddy's table where food and conversation was a joy which will be so dearly missed.
Doddy was the loving sister of the late Barbara Gentile of Somerville, MA and beloved mother to her late son, David W. Nelson of Greenville, NH. Along with her beloved husband Ed, Doddy will be deeply missed by her children and their spouses, Mark and Lisa Nelson of Westerly, RI, Robbin and Bruce Ayer of Reading, MA, daughter-in-law Diane Nelson of Floral City, FL, and her devoted niece Linda McCusker of Chelmsford, MA. She will be sadly missed by her grandchildren, David and Leeanne Nelson, Eric and Lauren Nelson, Lindsey Nelson, Sarah and Preston Wolfe, Michelle Nelson, Daniel Nelson, Leah Ayer, Samuel Ayer as well as nieces and nephews Scott Nelson, Doug and Allison Nelson, Kristi and Steve Moschella, and Jenn and Jon Ryan. She will also be missed by her great grandchildren and great nieces and nephews from Massachusetts, Florida, New Hampshire, and Nevada.
Dot's family would like to gratefully acknowledge the loving care Doddy received from the doctors and staff at Lahey Hospital, particularly, Dr. Diana Arena and nurse Janet. We are especially indebted to Dr. Elizabeth Collins whose steadfast palliative care provided Doddy with compassion, kindness, and dignity, and reassuring comfort to our family.
A socially distant Funeral Mass will be held on Saturday, February 6th at 10am at St. Matthew the Evangelist Parish in St. Theresa Church, 466 Boston Rd. Billerica, MA. Per current CDC and State Guidelines face coverings will be required and attendees must sign up at
https://cli.re/ccb-funeral-signup
In lieu of flowers, contributions in Doddy's memory may be made to the the wonderful Hospice Services at https://vnacarenetwork.ejoinme.org/VNACare
Read More
Previous Events
Funeral Mass
St. Theresa Church
466 Boston Rd.
Billerica, MA 01821