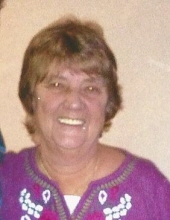 Obituary for Donna A. Amato
Donna Ann Amato (Gibb) passed away peacefully at her home on June 2,2020, surrounded by family. She was born on February 4th, 1941, she was the daughter of the late Ms. Edna Gibb. She was born and raised in Cambridge and lived in Billerica for the past 53 years. She had 3 siblings, the late Joe Gibb and Bobby Gibb, and her sister Nancy Piantedosi who resides in Waltham. She was the beloved wife of Vincent Amato of Billerica. She and Vinny were married for 57 years. They had 5 children. Vincent Amato and his wife Jacquie of Billerica, Paul Amato and his wife Diane of Melrose, Donna-Marie (Dee) Lynch and her husband Shawn of Tewksbury, Frank Amato and his wife Michele of Billerica, Charleen Amato-Gilbert and her husband Joe of Billerica. Donna had 12 grandchildren who she cherished, grandsons Kyle, Patrick, Anthony, Luke, Michael, granddaughters Megan, Grace, Nicole, Taylor, Brooke, Alyssa, and Leah.
Donna was truly a strong woman, loved being around family and enjoyed life. She grew up in hard times and challenges coming from a poor background, but believed in working hard, Donna would say "nothing is free, you must work for your success". Many in town knew Donna as the "bus driver", she did this to support her family when her children were young. Her vanity plate on her paneled station wagon stated, "Moms School Bus", as she shuffled around her 5 kids and their friends to many sporting teams and events around town.
As her children grew, Donnas' career path changed and began working for Raytheon in Burlington. She entered the company in the janitorial department, but her hard work was recognized and retired as an administrative assistant. Donna never liked retirement, too boring for her liking, which lead to working for her daughter Charleen's Chiropractic office in Burlington.
Donna enjoyed many things, especially her dog Bella and fur gran babies, Roxy, Mocha, Tucker, and Maddie. She especially loved family cookouts, playing gin for 5 bucks, country music, and oldie shows with her sister Nancy. Boating with family and grandchildren around the lake and trips to the casino always put a smile on Donna's face.
The last several years have been challenging for Donna and her family. Caring for a family member with dementia is difficult, she would easily get frustrated and state, "my brain is not working". Vinny devoted these last years keeping her home with the support of her children, especially Charleen who would bring her on daily walks around the neighborhood, and many trips to Garrisons to play keno at the bar. Chelmsford Senior Center stepped us last year and accepted Donna into their program for dementia. They were amazing and truly cared for her to maintain socialization that gets lost with people who have cognitive difficulties. We were grateful for their support in caring for her. In leu of flowers, donations in Donna's memory can be made to Chelmsford Senior Center Day Program, 75 Groton Road, N. Chelmsford, MA, 01863.