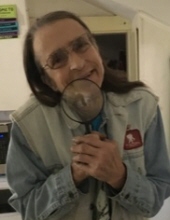 Obituary for Diane "Dede" M. Allen-Murphy
Diane "Dede" M. Allen-Murphy, Age 70, died Tuesday, April 21 at the Sawtelle Hospice House in Reading.

She was born in Lowell, December 31, 1949, a daughter of the late Arthur G. and Hilda C. (Fowler) Allen and lived in Billerica for most of her life.

Dede was employed as the Animal Control Officer in Billerica for eighteen years officially, but volunteered for many more due to her love for animals and children. She was the defender for those that could not defend themselves.

She is survived by her daughter, Lisia Allen-Leverett of Billerica; her son, Andre Allen of Billerica; her grandchildren, Katia, Naila and Jacara; her sister, Arleen Allen of Revere, her brothers, Gerald Allen of CT and Arthur Allen of NY and many nieces and nephews. She was the sister of the late Kenneth Allen.

A Celebration of Dede's Life will be held at a later date. Memorial contributions may be made to the MSPCA, 350 South Huntington Ave., Boston, MA 02130.
Read More