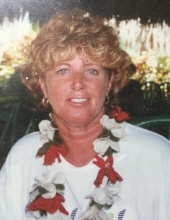 Obituary for Denise C. Ross
Denise C. Ross of Billerica, passed away peacefully on Friday, July 10, 2020 at Lahey Hospital in Burlington. She was born in Queen's Village, NY on February 22, 1951. The daughter of the late Arthur and Kathleen (McGee) Ross, she was raised in Brooklyn, NY before moving to Woburn, MA and then Billerica in 1980.
Denise was a beloved member of the Billerica School Department for over 30 years, working as a Paraprofessional at the Kennedy and Ditson Elementary Schools until her retirement in 2015. She devoted much of her life to helping children with special needs, whether it was physical, emotional, neurological or behavioral, Denise had a very special and unique talent of being able to make connections with each of them. She was caring, compassionate, and advocated for them to help them grow in many ways. Denise continued to help her students even further and became a certified Wilson Language instructor. She would come in early and stay late to help any of her students excel. She was a natural and gifted teacher.
Denise also loved travel and has many wonderful memories sitting on the beaches in Ft. Lauderdale, Jamaica, Aruba, Punta Cana and more. Additionally, she enjoyed going on girls trips to casinos for a little gambling.
Denise would never sit still, something always needed to be done. Even as her health made it difficult for her to be as active as she wanted to be, she was always involved with her friends and family. She was a selfless mother, sister and friend who generously shared an infinite amount of love for others. We will remember that we are so very fortunate to have had her with us as long as she could stay.
Denise is survived by her daughters, Jennifer Blois of Milford, CT, Jamie Pedersen and her husband Dan of Billerica and her two grandchildren, Tori and Dylan; her brothers, John Ross of Los Angeles, CA and Matthew Ross and wife Laurel of Clemson, SC; her sisters, Maureen Ross of Los Angeles, CA and Gail Cantafio and her husband Ralph of Brooklyn, NY. She was a wonderful friend of 30+ years to Sandra Rideout of Billerica and shared many happy memories together along with their dog Misty.
A Celebration of Life will be held for her at a later date to be determined.